The Wizard (Archmagus Merlin) is a grade A Staff Mercenary.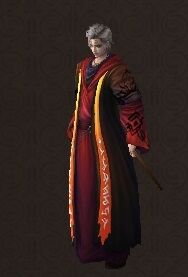 Merlin the Archmagus, well-known for his unmatched arts and his ability to foretell one's fate, is a support mercenary that grants the durability that your allies need
Merlin excels at defensive support, performing well as a healer while granting buffs. When on the offensive, he shifts to removing debuffs from his allies, while also casting debuffs on enemy targets.
You can have up to 1 of this mercenary.
Assessment
[
]
Characteristics
[
]
Attributes
[
]
Basic Attack
[
]
Recruitment
[
]
Upgrades
[
]
Multi-Hued Soul Crystal and Soul Jewel of the Lake.
Skills
[
]
This Mercenary can use these Magic Skills:
Remove Stunned status from allies and reduced the Combo Count on allies that are awake. Applies healing.
Heals allies and adds Action Power. When used against the enemy, cancels Buffs.
Inflicts powerful Damage to the enemy and seals the enemy's Physical Attacks.
Covers allies with a call of fate, protecting them from all Magic. Removes Debuffs and increases Accuracy and Health every turn.
History
[
]
The Wizard mercenary was added in the July 20, 2021 Update.