The Warlord (Khun Phaen) is a grade B Sword Mercenary.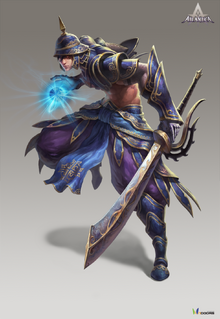 The Warlord combines magic and melee prowess to become the perfect second-in-command of any formation. With a sword in one hand he boosts the effect of his spells, while the orb in his other hand defends him against enemy skills.
You can have up to 1 of this mercenary.
Assessment
Edit
Khun Phaen is an excellent merc! His Thunderbolt Slash does high damage to a full row of enemies and his Demoralize is an excellent boss debuff!
The Warlord is and his skills are rare and expensive to obtain, but his upgrades are moderately priced.
Characteristics
Edit
Attributes
Edit
Basic Attack
Edit
Recruitment
Edit
Khun Phaen was originally Thailand Atlantica Online's special regional mercenary.
Upgrades
Edit
Giant Soul Crystal and Giant Soul Jewel.
This Mercenary can use these Magic Skills:
All 3 of the Warlord's magic skills were updated to scale with the level of the mercenary in the Perils of Avalon Update.
Seals the Magic of the enemy leader and drains Mana from him. Also decreases Attack Power, Defense, Critical Rate and Multi-Hit Rate.
Boosts the main character's attack, defense, critical, and intelligence. Passive Magic not increased by Charms or Equipment.
Smite the enemy (front row) with bolts of thunder.
Community content is available under
CC-BY-SA
unless otherwise noted.