[EVENT] Valentine's Day Event
[
]

Somewhere in the land of Atlantica, there was a beautiful Valentine Queen who's looking for a warrior worthy of her love. 
Warriors of Atlantica, prove your worth to the Valentines Queen's love in exchange of exciting rewards!
Duration: February 14 to March 14, 2019
Mechanics:
[
]
1. Gather Cocoa from monsters all around the surface world!

2. Use Cocoa as a crafting material for Proof of Love under Food category.

3. Learn how to craft Proof of Love by visiting Pierre, Item Droid Sion/Chichen Itza Artisan.

4. Event NPC is located in Rome at the fountain.

5. Show your proof of love to the queen and receive event rewards.

Rewards
[
]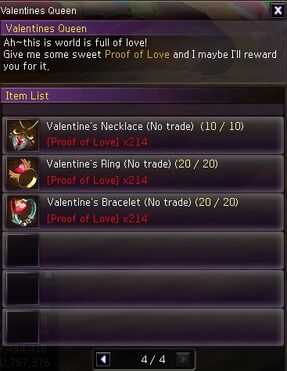 Valentine's Event Sale:
[
]
Atlas Ore x500 +75 (14% Off!)
Atlas Ore [E] x500 +75 (14% Off!)
Merc. Combat Searchbot Selection Box (14% Off!)
Cozy Treasure 5+2 (14% Off!)
Shaman's Sacred Treasure 5+1 (14% Off!)
Cat Garment Random Box 5+1 (14% Off!)


Item Mall: http://at.valofe.com/itemmall/item_mall

Regards,
Atlantica Team