Trainee Empress Tianmo is a grade A Sword mercenary and a member of the Diabolic Legion.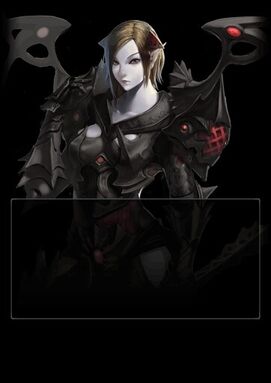 The granddaughter of one of Diabolic's founding members, she began the Blood Purge to wipe out any amongst her sect who refused to accept her as leader. She believes power is all that matters and welcomes all who are powerful enough to join her sect, as long as they swear to be loyal. She believes that she can unite all the martial arts factions under her flag and is working tirelessly to achieve that goal.
You can have up to 1 of this mercenary.
Assessment
Edit
Empress Tianmo is an excellent tank, nearly unkillable.
She also has decent skills. Unfortunately, her Divine Demon AoE skill does not scale to her level at higher levels like the General's Green Dragon Glaive does, and thus does much less damage.
She is useful in PvP, her Diabolical Prison skill can be cast over Holy Guard / Empress' Blessing.
Empress Tianmo can be an effective addition to any formation. She is hard to obtain and expensive to skill up and upgrade. If Divine Demon is upgraded to scale to her level, this will become worth it.
Characteristics
Edit
Attributes
Edit
Basic Attack
Edit
Recruitment
Edit
Upgrades
Edit
Multi-Hued Soul Crystal and Multi-Hued Soul Jewel.
Legion mercenaries' skills automatically appear and increase level as the mercenary upgrades.
This Mercenary can use these Magic Skills:
Grants you the seething skin of Demon. Makes you resistant to Melee attacks and enhances your inner powers. Increases Strength, Attack Power and Multi-Hit.
Skill Levels
Edit
Traps enemies in a demonic marble. Targets take damage over time (DoT) and are unaffected by magical effects.
Skill Levels
Edit
Summons a fierce demon to attack enemies (AoE). Targets take severe damage and are burned by Magical Fire.
Skill Levels
Edit
Enemies hit with the physical attack of Seal of Evil are cursed. Health and Attack Power are reduced with every turn while the curse is active. This is the basic skill of the Diabolic Legion, that all Diabolic members have.