Patch Notes: Visit the Tomb of Immortals!
Edit

New Individual Dungeon: Tomb of Immortals
Edit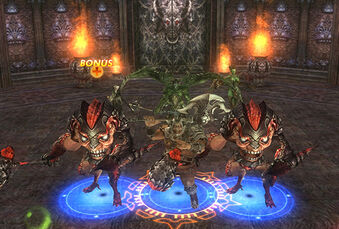 Explore the new individual
dungeon
, the
Tomb of Immortals
! This dungeon is best suited for players level 130 and above. Grab some friends and head to Eastern Mohenjodaro, where you can enter the dungeon as a party of three. Make sure one person in the group has the entry key, which can be purchased for 100,000,000 Gold on the Marketplace. Once inside, you have 30 minutes to defeat all of the monsters dwelling there! The dungeon normally has a 20-hour
cool down
, but from
May 12 to June 9
the cool down is only 10 hours! Once you complete the dungeon, everyone in your party will receive an
Immortal Gift
which will be sent to their mailbox. Open the gift to receive one random reward, such as the fancy
Immortal Bow
! Other possible rewards include Phoenix and Dragon God Equipment Boxes, Atlantis Coins and more.
Heart of a Fisherman Event
Edit
Event Dates: May 12 – May 26 It's time to go fishing! Visit Hainan Island, where Fisherman Acong is waiting for you! Learn how to craft yourself a fishing rod, and then stock up on bait. Bait comes in three varieties—Golden Bait and Silver Bait cost Gold, and Platinum Bait costs NX. Depending on what type of bait you use, you may fish up different rewards including mounts (like the new Lovely Pink Baby Dragon available from Platinum Bait), equips, scrolls and more. Each time you fish, you also earn lots of EXP, as well as Fisherman's Hearts and
Coupons, which can be exchanged for other fantastic rewards!
Return of the Infinity Challenge
Edit
Event Dates: May 12 – June 9
Atlantians, the Infinity Challenge awaits! This fierce dungeon tests your strength and sanity with 30 stages of tenacious enemies. The challenge is available at six different times throughout the day. When you see the sign-up window appear on the side of your screen, apply to join, and you will be teleported into the dungeon! You will be matched with two other players, and the three of you must work together to make it through each of the punishing stages. Every stage you clear rewards Infinity Challenge Medals, which can be exchanged for rewards such as mercenary equips, Infinity Necklaces, Purified Enhance and Enchant Stones and the Infinity Box (which contains rewards of its own!).