[EVENT] Thanksgiving in Atlantica Online 2018!
Edit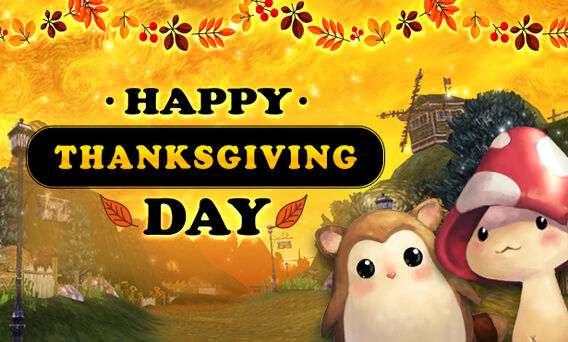 As the season of Thanksgiving approaches, hungry beasts have raided villages across the nation! You have been asked for a favor to return the turkeys back to the Native American Tribe! Good luck hero and save the symbol of Thanksgiving!
Requirements
Edit
- Event Period: After regular maintenance of 8th NOV ~ Before maintenance of 6th DEC
- Event Level: 30 ~ 180 Level
Event Details
Edit
1. Accumulative Login
Edit
You can get the [Turkey] for every hour that you are online, earn up to 50 per day.

* Accumulative time reset at 00:00 daily.
2. Random Encounter
Edit
Players can encounter a [Thanksgiving Bushbeast] randomly on battles. These creatures have stolen Turkeys across the land! Stop them and retrieve the turkeys!
[Thanksgiving Bushbeast] can drop the following items: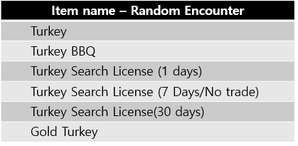 * Some dungeons and TBS don't have [Thanksgiving Bushbeast].
3. Thanksgiving Native American
Edit
Exchange your turkeys for some valuable mounts!
[Turkey] and [Gold Turkey] can be exchanged to other items from NPC [Thanksgiving Native American] in New York.

* ALL MINOTAUR SET ITEMS CAN ONLY BE REDEEMED ONLY 1 TIME.
Details of [Thanksgiving Box]
: Chance to get 1 of the following items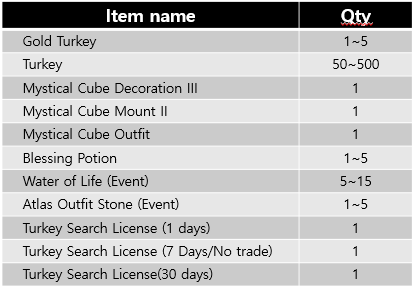 4. Fishing
Edit
[Turkey Bait] can be exchanged from NPC [Thanksgiving Native American]
These bait has a good chance of getting a Turkey from the sea?! It also gives a chance to get a Golden Turkey!
[Turkey Bait] costs 5 million gold per lure.
Fishing Rewards:
Edit
Have a wonderful holiday Atlantians!
VALOFE Operations Team