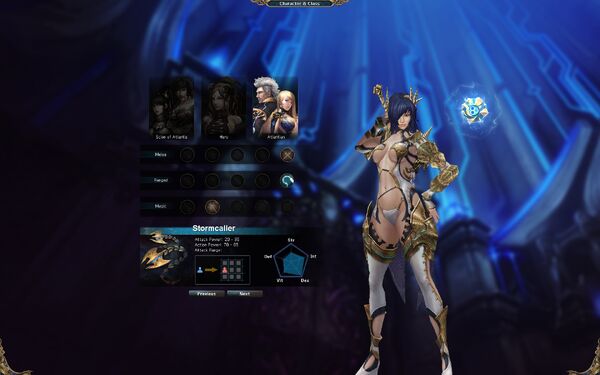 The Stormcaller is a Whip main character class.
The Stormcaller uses a whip, which is a ranged weapon that can target an entire row. Additionally, this weapon can attack airborne enemies. Stormcaller can also wield an orb in her off-hand.
The Stormcaller class was added in the Stormcaller update.
Basic Info
Edit
Attributes
Edit
Bonus Stats
Edit
The Stormcaller gets the following bonus stats:
Apotheosis: Transforms into a Goddess. Using Apotheosis does not use up a turn, you can immediately attack or use another skill.

Allows you to use Divine Thunder and Heaven's Fury skills.
Buffs stats (15% attack)
Stats buff: 50% to Health, Magic Damage, Attack Power, Magic Defense with Divinity (lv150) talent maxed.
Skill's level can't be raised.
Can only be used when the gauge on the upper-right is charged.
Level 100 Upgrade Skill
Edit
This skill can be unlocked at level 100 by talking to Time Goddess Aegis in the Time Rift Dungeon.
Level 120 Upgrade Skills
Edit
You can learn only one of these skills. These skills can only be learned after level 120 upgrade.
Shackles of the Thicket: The roots of the gigantic tree restrain your enemy and absorb it's Vitality. Works on bosses. This skill does damage and heals the caster, it isn't a "Vitality decrease" skill. The boss will lose Health, but not be frozen.
The Talent System allows Main Characters level 130 and above to choose additional bonuses.
Level 130 Talents
Edit
Talents
Grade

Lv.1

Lv.2

Lv.3

Lv.4

Lv.5

Lv.6

Lv.7

Lv.8

Lv.9

Lv.10

200

400

600

800

1,000

1,200

1,400

1,600

1,900

2,200

2,000

4,000

6,000

8,000

10,000

12,000

14,000

16,000

18,000

20,000

1

2

3

4

5

6

7

8

9

10
Level 140 Talents
Edit
Talents
Grade

Lv.1

Lv.2

Lv.3

Lv.4

Lv.5

Lv.6

Lv.7

Lv.8

Lv.9

Lv.10

200

400

600

800

1,000

1,200

1,400

1,600

1,800

2,000

30%

60%

90%

120%

150%

180%

210%

240%

270%

300%

[ Decreases all Melee damage taken by x. ]

3%

6%

9%

12%

15%

18%

21%

24%

27%

30%
Level 150 Talents
Edit
Talents
Grade

Lv.1

Lv.2

Lv.3

Lv.4

Lv.5

Lv.6

Lv.7

Lv.8

Lv.9

Lv.10

4

8

12

16

20

24

28

32

36

40

5%

10%

15%

20%

25%

30%

35%

40%

45%

50%

10%
10%

20%
20%

30%
30%

40%
40%

50%
50%

60%
60%

70%
70%

80%
80%

90%
90%

100%
100%
Level 160 Talents
Edit
Talents
Grade

Lv.1

Lv.2

Lv.3

Lv.4

Lv.5

Lv.6

Lv.7

Lv.8

Lv.9

Lv.10

[ Your regular attacks gain a x chance of inflicting Silence. ]

5%

10%

15%

20%

25%

30%

35%

40%

45%

50%

3%

6%

9%

12%

15%

18%

21%

24%

27%

30%

3%

6%

9%

12%

15%

18%

21%

24%

27%

30%
Level 170
Edit
| Grade | Lv.1 | Lv.2 | Lv.3 | Lv.4 | Lv.5 | Lv.6 | Lv.7 | Lv.8 | Lv.9 | Lv.10 |
| --- | --- | --- | --- | --- | --- | --- | --- | --- | --- | --- |
| | 20 | 40 | 60 | 80 | 100 | 120 | 140 | 160 | 180 | 200 |
| | 100 | 200 | 300 | 400 | 500 | 600} | 700 | 800 | 900 | 1,000 |
| | 5 | 10 | 15 | 20 | 25 | 30 | 35 | 40 | 45 | 50 |
Level 180
Edit
| Grade | Lv.1 | Lv.2 | Lv.3 | Lv.4 | Lv.5 | Lv.6 | Lv.7 | Lv.8 | Lv.9 | Lv.10 |
| --- | --- | --- | --- | --- | --- | --- | --- | --- | --- | --- |
| [ Increases Attack Power by % and Health of Mercenaries by % . ] | 1 | 2 | 3 | 4 | 5 | 6 | 7 | 8 | 9 | 10 |
| | 2 | 3 | 5 | 7 | 8 | 9} | 10 | 11 | 13 | 15 |
| | 10 | 20 | 30 | 40 | 50 | 60 | 70 | 80 | 90 | 100 |