The Spartan (Leonidas) is a grade B Spear Mercenary.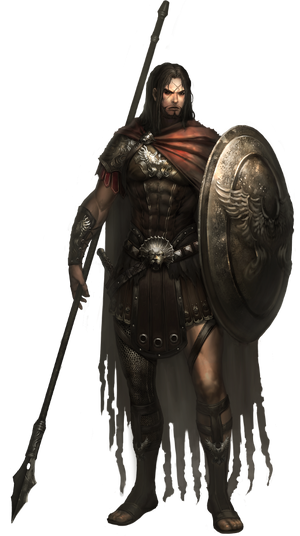 The Spartan has trained for war his entire life. By combining a spear and a shield, he brings a balance of devastating offense and hardened defense to your formation. It's said that his War Cry can crush the spirits of his enemies, decreasing their offensive stats.
You can have up to 1 of this mercenary.
Assessment
Edit
The Spartan is most helpful for your formation if you several other Spear characters.
The Spartan is inexpensive to obtain, upgrade and skill up.
Characteristics
Edit
Attributes
Edit
Basic Attack
Edit
Recruitment
Edit
Upgrades
Edit
Giant Soul Crystal and Giant Soul Jewel.
This Mercenary can use these Magic Skills:
Raises the Attack Power, Accuracy and Critical rate of allied Spear mercenaries (AoE).
Weaken your enemies' morale with a mighty war cry.