The Sheriff (Christine) is a grade B Gun Mercenary.
The Sheriff has devoted herself to the pursuit of justice. The fastest gun in the west, she'll lay waste to entire formations with her pistols. She's also a master with a lasso, freezing an enemy in place, and she's a crack shot with her rifle.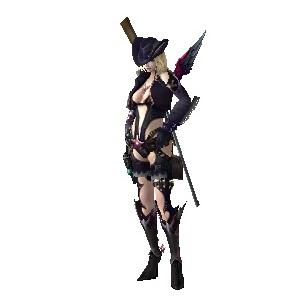 You can have up to 1 of this mercenary.
Assessment
[
]
Christine is one of the top gun mercenaries in the game! She is an offensive beast!
Even though she is an Item Mall mercenary, the fact that she is grade B and uses Dragon Soul Jewels instead of Multi-Hued Soul Jewels for her upgrades make her OP in terms of cost for damage. In PvP, she was mostly used by the players during free leagues until being succeeded with Patriot.
Characteristics
[
]
Attributes
[
]
Basic Attack
[
]
Recruitment
[
]
Upgrades
[
]
Dragon Soul Crystal and Dragon Soul Jewel.
Skills
[
]
This Mercenary can use these Magic Skills:
Ties the enemy up with rope.
Damages the enemy with a wild barrage from her revolver.
Increases the caster's Multi-Hit rate and Attack Power.
Grants a chance to fire an extra shot.