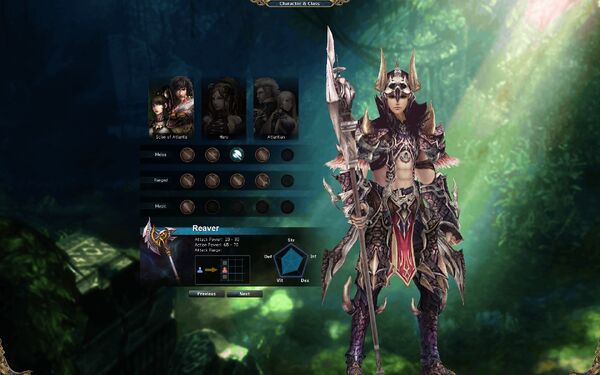 The Reaver is an Axe main character class.
With a sweep of your axe you strike an entire row of enemies. Your action power and defensive level against magic is low compared to others, but with your high vitality, you excel at withstanding enemy's physical attacks. Your Freezing Axe magic freezes foes in their tracks. A melee character cannot attack enemies in the air.
Basic Info
Edit
Attributes
Edit
Bonus Stats
Edit
The Reaver gets the following bonus stats:
Level 100 Upgrade Skill
Edit
You must complete the Main Character level 100 Upgrade quest line to learn this skill.
Level 120 Upgrade Skills
Edit
You can learn only one of these skills. These skills can only be learned after level 120 upgrade.
Beast's Soul: Summons Beast's Soul to increase allies' Attack Power.
Cleaving Blows: Gives basic attacks a chance to deal additional damage and weaken enemy defenses. Has a higher chance to trigger at higher magic levels. Passive.
The Talent System allows Main Characters level 130 and above to choose additional bonuses.
Level 130 Talents
Edit
Talents
Grade

Lv.1

Lv.2

Lv.3

Lv.4

Lv.5

Lv.6

Lv.7

Lv.8

Lv.9

Lv.10

400

800

1,200

1,600

2,000

2,400

2,800

3,200

3,600

4,000

2,000

4,000

8,000

12,000

16,000

20,000

24,000

27,000

29,000

32,000

1

2

3

4

5

6

7

8

9

10
Level 140 Talents
Edit
Talents
Grade

Lv.1

Lv.2

Lv.3

Lv.4

Lv.5

Lv.6

Lv.7

Lv.8

Lv.9

Lv.10

[ Freezing Axe deals x more Damage and costs y less Action Power. Increases your ice resistance by z. ]

100%, 10, 5%

200%, 20, 10%

300%, 30, 15%

400%, 40, 20%

500%, 50, 25%

600%, 60, 30%

700%, 70, 35%

800%, 80, 40%

900%, 90, 45%

1000%, 100, 50%

[ Increases [{Vatality]] by x. ]

200

400

600

800

1,000

1,200

1,400

1,600

1,800

2,000

[ Gain x additional [{Action Power]] per turn. Increases Speed by 2 in TBS. ]

3

6

9

12

15

18

21

24

27

30
Level 150 Talents
Edit
Talents
Grade

Lv.1

Lv.2

Lv.3

Lv.4

Lv.5

Lv.6

Lv.7

Lv.8

Lv.9

Lv.10

[ Physical Attacks deal an additional x ice damage. Increases ice resistance by y. ]

8%, 5%

16%, 10%

24%, 15%

32%, 20%

40%, 25%

48%, 30%

55%, 35%

61%, 40%

68%, 45%

75%, 50%

100

200

300

400

500

600

700

800

900

1,000}

10%

20%

30%

40%

50%

60%

70%

80%

90%

100%
Level 160 Talents
Edit
Talents
Grade

Lv.1

Lv.2

Lv.3

Lv.4

Lv.5

Lv.6

Lv.7

Lv.8

Lv.9

Lv.10

4%

8%

12%

26%

20%

24%

28%

32%

36%

40%

5%

10%

15%

20%

25%

30%

35%

40%

45%

50%

3,000

6,000

9,000

12,000

15,000

18,000

21,000

24,000

27,000

30,000
Level 170 Talents
Edit
| Grade | Lv.1 | Lv.2 | Lv.3 | Lv.4 | Lv.5 | Lv.6 | Lv.7 | Lv.8 | Lv.9 | Lv.10 |
| --- | --- | --- | --- | --- | --- | --- | --- | --- | --- | --- |
| | 20 | 40 | 60 | 80 | 100 | 120 | 140 | 160 | 180 | 200 |
| | 0.5 | 1 | 1.5 | 2 | 2.5 | 3} | 3.5 | 4 | 4.5 | 5 |
| | 800 | 1,600 | 2,400 | 3,200 | 4,000 | 4,800 | 5,600 | 6,400 | 7,200 | 8,000 |
Level 180 Talents
Edit
| Grade | Lv.1 | Lv.2 | Lv.3 | Lv.4 | Lv.5 | Lv.6 | Lv.7 | Lv.8 | Lv.9 | Lv.10 |
| --- | --- | --- | --- | --- | --- | --- | --- | --- | --- | --- |
| [ Increases Attack Power by % and Health of Mercenaries by % . ] | 1 | 2 | 3 | 4 | 5 | 6 | 7 | 8 | 9 | 10 |
| | 2 | 3 | 5 | 7 | 8 | 9} | 10 | 11 | 13 | 15 |
| | 10 | 20 | 30 | 40 | 50 | 60 | 70 | 80 | 90 | 100 |