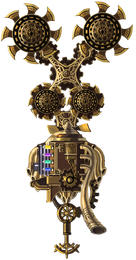 A Power Saw is a melee weapon that can attack up to 3 enemies consecutively (not across a gap) across a front line of a formation, but cannot attack flyers.
Attack grid:

Power Saws are used by the Berserker main character class and mercenary classes Punisher, Puppeteer, Bounty Hunter and Trainee Heisha Modi.
Crafting
Edit
Most weapons in Atlantica Online can be crafted. See the Power Saw Crafting and Weapon Crafting pages for details.
Power Saws
Edit
Item Name
Level
Stats
Base Attack
Durability
Other

1

Strength +8
Vitality +5

66 - 143

∞

10

Strength +310
Vitality +200

2656 - 5307

100

Cannot be traded normally
Cannot be crafted
<Special Ability>

15

Strength +12
Vitality +8

99 - 209

∞

25

Strength +14
Vitality +9

121 - 253

∞

35

Strength +17
Vitality +11

143 - 308

∞

50

Strength +21
Vitality +14

176 - 363

∞

50

Strength +29
Vitality +18

231 - 484

∞

60

Strength +25
Vitality +16

209 - 440

∞

60

Strength +35
Vitality +22

286 - 583

∞

70

Strength +31
Vitality +20

253 - 528

100

80

Strength +37
Vitality +24

308 - 627

100

90

Strength +44
Vitality +29

374 - 748

100

90

Strength +307
Vitality +202

2624 - 5244

∞

Cannot be crafted

95

Strength +53
Vitality +35

451 - 902

100

97

Strength +63
Vitality +42

539 - 1078

100

100

Strength +76
Vitality +50

649 - 1298

100

105

Strength +91
Vitality +60

781 - 1562

100

110

Strength +109
Vitality +72

937 - 1874

100

113

Strength +131
Vitality +87

1124 - 2250

100

120

Strength +158
Vitality +104

1350 - 2699

100

130

Strength +205
Vitality +135

1755 - 3508

100

140

Strength +267
Vitality +176

2282 - 4560

100

140

Strength +289
Vitality +188

2577 - 5046

100

150

Strength +307
Vitality +202

2624 - 5244

100

150

Strength +388
Vitality +250

3319 - 6633

100

[Magic]

Roar of the Firmament

Lv1

Enhance (VIT): Increases Attack Power by 2,0% of VIT. Increases Def by 10,0% of Max Attack Power

Cannot be crafted

155

Strength +353
Vitality +232

3017 - 6030

100

165

Strength +424
Vitality +278

3620 - 7236

100

175

Strength +505
Vitality +331

4314 - 8625

100