The Nymph (Dryad) is a grade A Whip Mercenary.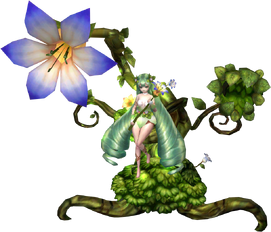 A guardian of nature who wields a whip infused with the power of the forest.
The Dryad can use Evergreen Grace to invigorate you with power, Shackles of the Thicket to restrain your enemies, and Wildwood Regeneration to help your allies recover.
You can have up to 1 of this mercenary.
Characteristics
Edit
Attributes
Edit
Basic Attack
Edit
Recruitment
Edit
The Nymph was added in the Introducing the Dryad patch.
Upgrades
Edit
Multi-Hued Soul Crystal and Multi-Hued Soul Jewel.
This Mercenary can use these Magic Skills:
The gigantic tree's grace restores Vitality and increases Action Power and Multi-Hit every turn.
The roots of the gigantic tree restrain your enemy and absorb it's Vitality. This skill does damage and heals the caster, it isn't a "Vitality decrease" skill. A boss will lose Health, but not be frozen.
The gigantic tree's blessing cancels enemy attacks or debuffs on your ally. Decreases Action Power slightly in certain situations.