Ninetails is a grade A Whip Mercenary.
Ninetails is the leader of the Fox Spirit Clan. Due to her inability, her clan was corrupted and wiped out by the Oriharukon. Unable to bring herself to leave her people behind, she's looking for someone strong enough who could bring peace to the village she was so fond of and lay her clan to rest.
You can have up to 1 of this mercenary.
Assessment
[
]
Ninetails is a very effective mercenary in both PvE and PvP. As an Item Mall mercenary, she is very expensive to obtain, skill up and upgrade, but worth it! Her skill books can only be obtained from the Item Mall. There are no crafting skills in the game to level those up to higher levels, so you have to increase those skills using Atlas Ore.
Characteristics
[
]
Attributes
[
]
Basic Attack
[
]
Recruitment
[
]
Notes
[
]
Ninetails was added in the March 29 2018 Patch patch.
Upgrades
[
]
Multi-Hued Soul Crystal and Multi-Hued Soul Jewel.
Skills
[
]
This Mercenary can use these Magic Skills: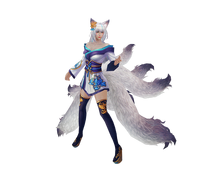 With intense spiritual focus, Ninetails' Multi-Hit rate and Attack Power is greatly increased (self buff only).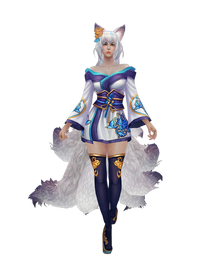 An immense spirit assault that greatly reduce the targets' defensive power and energy.
Tap the ally's dormant soul and exchange Action Power. The target's soul will be free from harmful conditions and status.