A non-player character or NPC includes all entities within the game that are not controlled by players. The term is sometimes extended to monsters, but on Atlantica Wiki, a distinction between monsters and all other NPCs is maintained.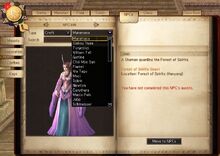 You can find information, including location info, about any NPC in Atlantica in game from the Encyclopedia's NPCs tab (accessible via the Game Info menu > NPCs) in the user interface.
You can search for a specific NPC by typing all or part of the NPC's name or by pulling down the NPC Type list to see all NPCs of a specified category (Quest, Resident, Merchant, Life Skill, TBS, Misc.).
You can even automatically move (or teleport) to the NPCs location, by clicking on the Move to NPCs button.