New Item Sale: Mercenary Skin Coupon!
Edit
New skins for mercenaries have arrived, allowing you to customize Jessica, Jeon Woo-Chi, Himiko, Guan Yu and many more! Head over to the item mall and pick up a Mercenary Skin Coupon that you can trade to NPC Erin at the Bazaar in Rome. Choose from 12 currently available mercenary skins!
Mercenary Skin Coupon
Edit
Permanent Sale Start Date: Thursday, Sept. 24
Note: Visit NPC Erin at the Bazaar in Rome to trade the Mercenary Skin Coupon for the Mercenary Skin of your choice.
About Mercenary Skins
Edit
Mercenary Skins can now have stats added to them when used with Atlas Ore or Mercenary Skin Enhancement Stones. Mercenary Skins are a consumable item, so once you've used it, it will be bound to one mercenary forever.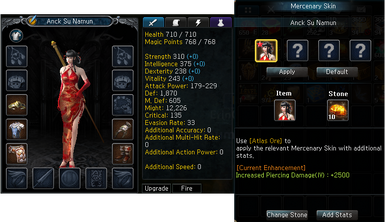 How to Equip a Mercenary Skin Edit
Open your inventory
Select the mercenary the skin is assigned to
Right-click on the mercenary skin to equip
Select the Mercenary Skin tab
Choose the skin you want to apply, then click Apply
To remove the skin, click the Default button on the Mercenary Skin Tab
Notice: Please note that these are a 1-time-use item. The skin will be applied to only one mercenary. If you fire the mercenary, the skin will also go with it.

Adding Stats to a Mercenary Skin Edit
Open your inventory
Select the Mercenary Skin tab
Click on the Mercenary Skin you'd like to apply stats to
Applying Stats will default to consuming Atlas Ore, however it can be switched to Mercenary Skin Enhancement Stones by clicking the change stone button
It costs five Mercenary Enhancement Stones to add stats. Mercenary Enhancement Stones can only be obtained during certain events
It costs 10 Atlas Ore to add stats. Atlas Ore can be purchased via the Item Mall