The Menus are a big part of the Atlantica Online user interface.
The Main Menu has several sub menus that drop down from it, each with multiple items.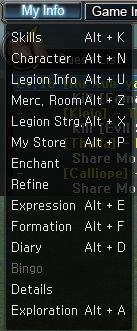 Skills (Alt+K): opens the Skills window, which shows all skills of all characters in your formation
Character (Alt+N): opens the Character sheet
Legion Info (Alt+U): opens the Legion Info window
Merc. Room (Alt+Z): opens the Merc Room window
Legion Strg. (Alt+X): opens the Legion Storage
My Store (Alt+P): opens My Store
Enchant: opens the Enchant window
Refine: opens the Refine window
Expression (Alt+E): opens the Expression window
Formation (Alt+F): opens the Formation window
Diary (Alt+D): opens the Diary
Bingo: opens the Bingo event window
Details: opens the Robot Type window
Exploration (Alt+A): opens the Daily Exploration window
Collection Book Effects: open the Collection Book Effects dialog.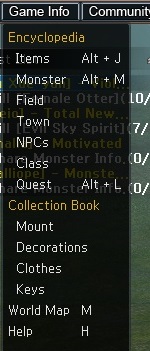 Game Info
Edit
Encyclopedia
Edit
The Encyclopedia is the in-game book with information of all items, monsters, locations, towns, NPCs, classes, and quests, each on a separate tab that you can access directly from this menu.
Collection Book
Edit
The Collection Book is the place where you can collect various items: mounts, decorations, clothes (all of which can gain you AT Mileage Points) and keys (for dungeons).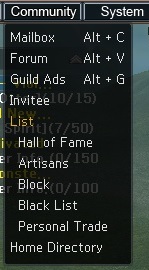 Community
Edit


Item Mall
Edit
Item Mall: opens the Atlantica Online Item Mall in a browser
Item Pickup: opens the Item Pickup window
Purchase GC (GCoins/Item Mall currency): opens the Atlantica Online Item Mall in a browser
Community content is available under
CC-BY-SA
unless otherwise noted.