Mentorship Qualifications
[
]
Mentor Qualifications: Users above level 160
Mentee Qualifications: Users below level 159

Mentor System Rules:
[
]
1. Create a mentor relationship after registering [Apprentice] / [Mentor] in the mentor list popup window.
2. Mentors can only have 1 Apprentice
3. Apprentice who party with his mentor has twice the experience of hunting / quest.
4. If the apprentice is in a party with his Mentor and completes the quest, he or she will be counted by both.
5. The apprentice is compensated once, and the mentor is compensated repeatedly.
6. Even if mentor relationship is lifted, compensation information is maintained.
7. Users at level 30 or below are automatically added to the mentor list upon connection.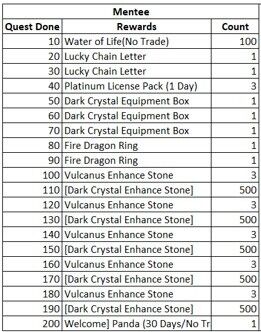 History
[
]
Atlantica Online had a previous mentor system. This one was added in the January 10 2019 Update.