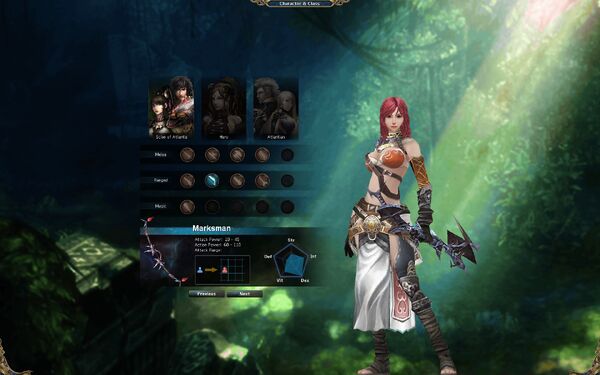 The Marksman is a Bow main character class.
With your bow, you become a master sniper, able to strike any one target in the enemy formation with high damage, and you deal even more damage with the right arrows. While your high evasion helps you avoid enemy attacks, your low vitality makes you vulnerable. User you Silence magic to stop the enemies from using magic of their own.
Basic Info
Edit
Attributes
Edit
Bonus Stats
Edit
The Marksman gets the following bonus stats:
Level 100 Upgrade Skill
Edit
You must complete the Main Character level 100 Upgrade quest line to learn this skill.
Level 120 Upgrade Skills
Edit
You can learn only one of these skills. These skills can only be learned after level 120 upgrade.
The Talent System allows Main Characters level 130 and above to choose additional bonuses.
Level 130 Talents
Edit
Talents
Grade

Lv.1

Lv.2

Lv.3

Lv.4

Lv.5

Lv.6

Lv.7

Lv.8

Lv.9

Lv.10

300

600

900

1,200

1,500

1,800

2,100

2,400

2,700

3,000

[ Increases Max Health by x. ]

1,800

3,600

5,400

7,200

9,000

10,800

12,600

14,400

16,200

18,000

[ Increases Magic Level by x. ]

1

2

3

4

5

6

7

8

9

10
Level 140 Talents
Edit
Talents
Grade

Lv.1

Lv.2

Lv.3

Lv.4

Lv.5

Lv.6

Lv.7

Lv.8

Lv.9

Lv.10

2%

4%

6%

8%

10%

12%

14%

16%

18%

20%

[ Gain a x chance to evade Melee attacks. ]

2

4

6

8

10

12

14

16

18

20

5%

10%

15%

20%

25%

30%

35%

40%

45%

50%
Level 150 Talents
Edit
Talents
Grade

Lv.1

Lv.2

Lv.3

Lv.4

Lv.5

Lv.6

Lv.7

Lv.8

Lv.9

Lv.10

20%

40%

60%

80%

100%

120%

104%

160%

108%

200%

[ Gain a x chance to evade Ranged attacks. ]

2%

4%

6%

8%

10%

12%

14%

16%

18%

20%

5%

10%

15%

20%

25%

30%

35%

40%

45%

50%
Level 160 Talents
Edit
Talents
Grade

Lv.1

Lv.2

Lv.3

Lv.4

Lv.5

Lv.6

Lv.7

Lv.8

Lv.9

Lv.10

[ Your attacks deal x more Damage against enemies in the back row. ]

10%

20%

30%

40%

50%

60%

70%

70%

90%

100%

Lv.1%

Lv.2%

Lv.3%

Lv.4%

Lv.5%

Lv.6%

Lv.7%

Lv.8%

Lv.9%

Lv.10%

3

6

9

12

15

18

21

24

27

30
Level 170 Talents
Edit
| Grade | Lv.1 | Lv.2 | Lv.3 | Lv.4 | Lv.5 | Lv.6 | Lv.7 | Lv.8 | Lv.9 | Lv.10 |
| --- | --- | --- | --- | --- | --- | --- | --- | --- | --- | --- |
| | 1.5 | 3 | 4.5 | 6 | 7.5 | 9 | 10.5 | 12 | 13.5 | 15 |
| | 100 | 200 | 300 | 400 | 500 | 600} | 700 | 800 | 900 | 1,000 |
| | 5 | 10 | 15 | 20 | 25 | 30 | 35 | 40 | 45 | 50 |
Level 180 Talents
Edit
| Grade | Lv.1 | Lv.2 | Lv.3 | Lv.4 | Lv.5 | Lv.6 | Lv.7 | Lv.8 | Lv.9 | Lv.10 |
| --- | --- | --- | --- | --- | --- | --- | --- | --- | --- | --- |
| [ Increases Attack Power by % and Health of Mercenaries by % . ] | 1 | 2 | 3 | 4 | 5 | 6 | 7 | 8 | 9 | 10 |
| | 2 | 3 | 5 | 7 | 8 | 9} | 10 | 11 | 13 | 15 |
| | 10 | 20 | 30 | 40 | 50 | 60 | 70 | 80 | 90 | 100 |