Atlantica Online March Update Patch Notes
Edit
Atlantica Online's March update has arrived, and it's chock-full of events! Read on, but don't forget the Vulcanus Ring Enhancement Event or Mythic Minotaur Items!
Blunderbuss Exploration Event
Edit
Event Duration: Thursday, March 17th - Thursday, April 14th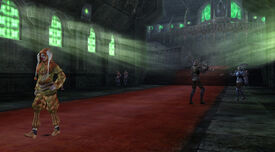 Head to Southern Europe to explore Twisted Bran Castle, and hunt the monsters that dwell there. You will need an entry ticket to get inside, which can be obtained by staying logged in to Atlantica Online for one hour (limit of one ticket per day). Once inside, fight your way through the armies of Knights, Guards, Clowns and Clocks for your chance to claim Washington's Blunderbuss!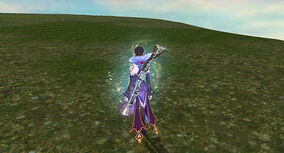 Either obtained through Hidden Weapon Boxes dropped by the enemies or dropped by the enemies themselves, this unique weapon gives Washington the power to use Patriotic Resolve, regardless of his current health.
St. Patrick's Day Event
Edit
Event Duration: Thursday, March 17th - Thursday, April 14th Everyone wants to celebrate St. Patrick's Day, but the event is being spoiled by the appearance of disruptive green monsters!
Event Details: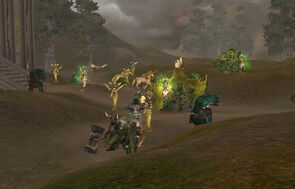 Go to Dublin in Northern Europe to take part in the St. Patrick's Day Festival.
Defeat the Green monsters outside of Dublin to gain Green Water and Paint.
Help out with the Festival by completing tasks for Partyholic Mary to claim more Green Water, Paint and Green Paint.
Combine Green Water and Paint to create Green Paint, used to claim prizes.
Event Rewards:
500 Green Paint: Green Garuda's Wings
400 Green Paint: Ching Ya: Clover Outfit
300 Green Paint: St. Patrick's Outfit
300 Green Paint: St. Patrick's Hair Accessory
250 Green Paint: Emerald Earrings
250 Green Paint: Emerald Bracelet
70 Green Paint: Green Clover Dinner Table
4 Green Paint: Tasty Green Soup
4 Green Paint: Magic Green Tea
4 Green Paint: Sweet Green Cake
4 Green Paint: Marvelous Pea
2 Green Paint: Yggdrasil's Leaf
2 Green Paint: Yggdrasil's Fruit
1 Green Paint: Green Mold
Easter Golden Rabbit Event
Edit
Event Duration: Thursday, March 17th - Thursday, April 14th Defeat the Easter Golden Rabbit monster that appears randomly in Atlantica Online during Easter!
That's no ordinary rabbit! It's got a vicious streak a mile wide!
Event Details: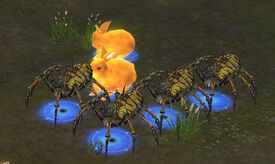 Delve into dungeons throughout Atlantica Online to encounter the dreaded Golden Rabbit! These bunnies will appear randomly in battles, reinforcing your foes. Note : They do not appear in auto-leveling dungeons.
If the Golden Rabbit is not defeated in time, it will commit a Suicidal Explosion, blowing its enemies to tiny bits and depriving you of the loot.
When defeated, Golden Rabbits can drop Very Filling Easter Eggs, which will boost attack for 30 minutes, or Easter Candles, which can be traded in for prizes.
Super-Sized Easter Golden Rabbits, which can be battled randomly throughout Europe, are boss-tier foes that can reward multiple Easter Candles, Very Filling Easter Eggs or a Pure Easter Egg.
Pure Easter Eggs can also be found randomly throughout the world, containing a Golden Tear, Golden Book of Craftsmanship, a 1 hour Quest
EXP 2x License, Very Filling Easter Egg or Easter Candles.
Visit the Easter Token Collector in Rome to trade in Easter Candles for Prizes.
Event Rewards:
500 Easter Candles: Rabbit Mount
30 Easter Candles: Gold Rabbit Search Robot License (7 days)
16 Easter Candles: Mercernary Upgrade Soul Stone Box
8 Easter Candles: Mercenary Upgrade Soul Crystal Box
50 Easter Candles: Quest EXP 2x License (1 hour)
50 Easter Candles: Golden Book of Craftsmanship
50 Easter Candles: Character Level Up Ticket [VI] (Merc. Only)
30 Easter Candles: Character Level Up Ticket [V] (Merc. Only)
15 Easter Candles: Golden Tear
15 Easter Candles: Water of Life
10 Easter Candles: Scroll of Resurrection
10 Easter Candles: Scroll of Life's Blessing
5 Easter Candles: Ambrosia
Bug Fixes and Other Changes
Edit
Fist mercenaries no longer dodge all physical attacks in Kronos
Jessica books can now be properly crafted
Silver Centaur is no longer missing from mount book
Acong Ducky search bot will no longer get stuck on another player's screen
Individual Dungeon cool downs for those outside of the PDT timezone are now correct
Level Requirement in quest log now properly shows values over 100
The correct weapons now drop from the Lucky Loot system
Expedition Quest from Main Storyline – Expedition has been restored
Player feedback survey added when closing the client. The survey can be given every 7 days.
NPC Erin Update
Edit
New Mercenary Skins Added
Ching Ya : Clover Outfit (Limited time Skin)
Brothers Grimm: Wonderland
Khun Phaen: Dress Coat
Michael: White Gothic
Necromancer: Fringe
Shen Hong: Red Shadow
Mwindo: Party Girl
Empress Tianmo: Party Girl
Avalon Improvement
Edit
Changes Made to the Nation Dungeon Perils of Avalon Stage Clear Reward Distribution Method.
Only the nation members who had a certain number of battles in each stage in [Avalon in Peril] will receive the reward.
[Heart of Avalon] the contribution reward will be added for the players who destroy the knight statues.
Additional rewards will be distributed to players who placed 1st-5th based on the number of the statues that they destroyed (only counts the statues summoned by Grand Magician Merlin).