Main Character/Party Buffs are temporary increases in things like experience and Attack Power, usually lasting some number of minutes or hours.
These
buffs
affect your entire
formation
and all
characters
in it.

Click on the
My Buff Effects
button on the right hand side of the
user interface
to display your active buffs.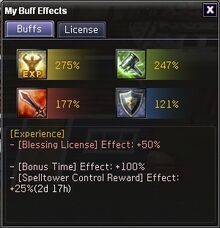 Experience
Edit
Click on the Experience tab (the first/default tab) to view your experience buffs: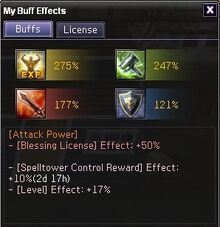 Attack Power
Edit
Click on the Attack Power tab to view your attack power buffs.

Workload
Edit
Click on the Workload tab to view your crafting workload buffs.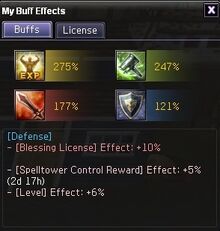 Click on the Defense tab to view your defense buffs.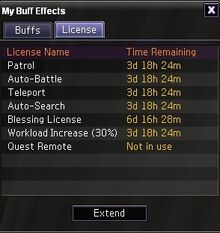 The License tab shows your active licenses, as well as the expiration time of any currently open dungeons.
Buff Retention
Edit
Feast and Title Buff duration is retained if you log out. So if you have a 1 hour Feast or Title Buff and use 30 minutes, then log out, when you log back on, the Buff's remaining 30 minutes are still applied.
See Also
Edit
Buffs: Combat buffs on characters that last a certain number of turns.