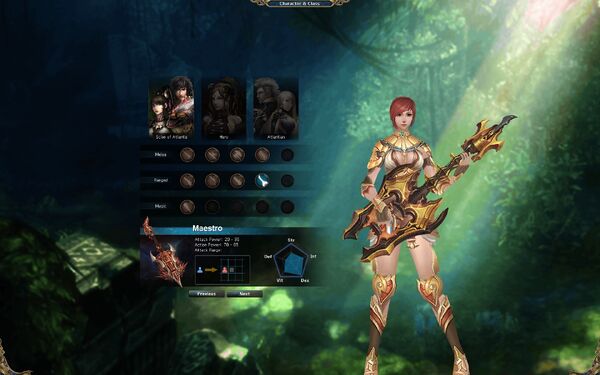 The Maestro is an Instrument main character class.
Maestros play an
instrument
to strike two enemies in a line. Maestros cast damage over time magic. Maestros can equip light armor giving them higher vitality than staff. Maestros can use "
Ravaging Melody
" to reduce enemies'
HP
,
attack power
and
defense
.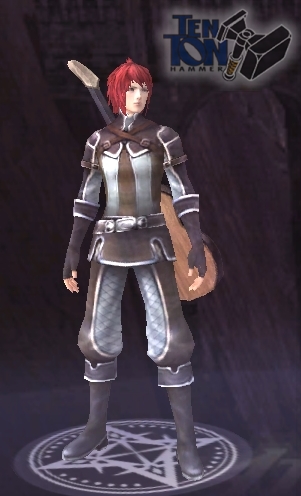 Basic Info
Edit
Attributes
Edit
Bonus Stats
Edit
The Maestro gets the following bonus stats:
Level 100 Upgrade Skill
Edit
You must complete the Main Character level 100 Upgrade quest line to learn this skill.
Requiem: Soul disturbing melodies damage enemies. Deals severe damage if it is not dispelled in time.
Level 120 Upgrade Skills
Edit
You can learn only one of these skills. These skills can only be learned after level 120 upgrade.
Vampiric Thirst: Steal Health from the enemy during a basic attack. Passive. The activation rate depends on the skill level.
Watchful Soul: A lost soul watches over the caster, allowing her to avoid more physical attacks.
The Talent System allows Main Characters level 130 and above to choose additional bonuses.
Level 130
Edit
Talents
Grade

Lv.1

Lv.2

Lv.3

Lv.4

Lv.5

Lv.6

Lv.7

Lv.8

Lv.9

Lv.10

[ Increases Attack Power by x. ]

200
400
600
800
1,000
1,200
1,400
1,600
1,800
2,000

[ Increases Max Health by x. ]

2,200
4,400
6,600
8,800
11,000
13,200
15,400
17,600
19,800
22,000

[ Increases Magic Level by x. ]

1

2

3

4

5

6

7

8

9

10
Level 140
Edit
Talents
Grade

Lv.1

Lv.2

Lv.3

Lv.4

Lv.5

Lv.6

Lv.7

Lv.8

Lv.9

Lv.10

5%, 50%
10%, 100%
15%, 150%
20%, 200%
25%, 250%
30%, 300%
35%, 350%
40%, 400%
45%, 450%
50%, 500%
10%
20%
30%
40%
50%
60%
70%
80%
90%
100%
15%, 15%
30%, 30%
45%, 45%
60%, 60%
75%, 75%
90%, 90%
115%, 115%
130%, 130%
145%, 145%
160%, 160%
Level 150
Edit
Talents
Grade

Lv.1

Lv.2

Lv.3

Lv.4

Lv.5

Lv.6

Lv.7

Lv.8

Lv.9

Lv.10

3%
6%
9%
12%
15%
18%
21%
24%
27%
30%

[ Grants a % chance to resist Seal and Silence magic. ]

10%
20%
30%
40%
50%
60%
70%
80%
90%
100%

[ Increases Ravaging Melody's damage by % and restores your Health by % of the damage dealt by Ravaging Melody. ]

30%, 5%
60%, 10%
90%, 15%
120%, 20%
150%, 25%
180%, 30%
210%, 35%
240%, 40%
270%, 45%
300%, 50%
Level 160
Edit
Talents
Grade

Lv.1

Lv.2

Lv.3

Lv.4

Lv.5

Lv.6

Lv.7

Lv.8

Lv.9

Lv.10

[ When using magic, gain a % chance to increase the spell's damage, restoration and stat effeects by 20%.

5%
10%
15%
20%
25%
30%
35%
40%
45%
50%
5%
10%
15%
20%
25%
30%
35%
40%
45%
50%

[ Regular attacks reduce the target's MP by % of their max MP. ]

2%
4%
6%
8%
10%
12%
14%
16%
18%
20%
Level 170 Talents
Edit
| Grade | Lv.1 | Lv.2 | Lv.3 | Lv.4 | Lv.5 | Lv.6 | Lv.7 | Lv.8 | Lv.9 | Lv.10 |
| --- | --- | --- | --- | --- | --- | --- | --- | --- | --- | --- |
| | 20 | 40 | 60 | 80 | 100 | 120 | 140 | 160 | 180 | 200 |
| | 100 | 200 | 300 | 400 | 500 | 600} | 700 | 800 | 900 | 1,000 |
| | 5 | 10 | 15 | 20 | 25 | 30 | 35 | 40 | 45 | 50 |
Level 180 Talents
Edit
| Grade | Lv.1 | Lv.2 | Lv.3 | Lv.4 | Lv.5 | Lv.6 | Lv.7 | Lv.8 | Lv.9 | Lv.10 |
| --- | --- | --- | --- | --- | --- | --- | --- | --- | --- | --- |
| [ Increases Attack Power by % and Health of Mercenaries by % . ] | 1 | 2 | 3 | 4 | 5 | 6 | 7 | 8 | 9 | 10 |
| | 2 | 3 | 5 | 7 | 8 | 9} | 10 | 11 | 13 | 15 |
| | 10 | 20 | 30 | 40 | 50 | 60 | 70 | 80 | 90 | 100 |