The Lich (Grim Reaper) is a grade A Axe Mercenary.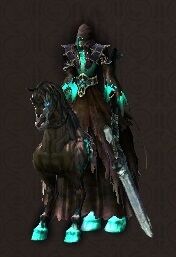 The Grim Reaper holds power over death itself, commanding magic that takes his opponents' lives in his hands. He can use the Mantle of Death to slow opponents and hinder their healing abilities. The blade of his Demon's Sickle deals heavy damage while reinvigorating the Reaper. The Silence of the Grave halts enemy spellcasting and makes them more vulnerable, and can be combined with Blood Curse to lower their defense even more.
Assessment
[
]
The Lich is an excellent tank and all-around mercenary.
The Lich is an Item Mall mercenary, and expensive to upgrade, as well.
Characteristics
[
]
Attributes
[
]
Basic Attack
[
]
Recruitment
[
]
Upgrades
[
]
Multi-Hued Soul Crystal and Multi-Hued Soul Jewel.
Skills
[
]
This Mercenary can use these Magic Skills:
Fills your enemies with terror, reducing recovery magic and movement speed each turn.
When HP is 30% or lower, deals heavy damage to a single target and heals a portion of HP.
Lowers the enemy's Magic Defense and has a chance to inflict Silence. After activating skill, cast Riva Faust's Blood Curse to lower their defense even more.