An Instrument is a ranged weapon that can hit up to 2 consecutive enemies in a column (cannot fire across a gap in a column) in a formation, including flyers.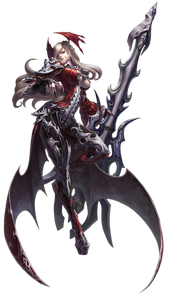 Attack grid:

Instruments are used by the Maestro main character class and mercenary classes Bard, Trainee Chiu Hong, Trainee Maitreya, Minstrel, Musician, Necromancer and Vampire.
Crafting
[
]
Most weapons in Atlantica Online can be crafted. See the Instrument Crafting and Weapon Crafting pages for details.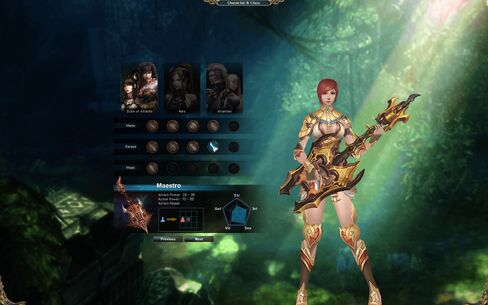 Instruments
[
]
Item Name
Level
Stats
Base Attack
Durability
Other

1

Intelligence +16
Vitality +6

40 - 50

∞

10

Intelligence +592
Vitality +222

1494 - 2006

100

Cannot be traded normally
Cannot be crafted
<Special Ability>

15

Intelligence +23
Vitality +9

60 - 80

∞

25

Intelligence +28
Vitality +11

70 - 90

∞

25

Intelligence +31
Vitality +12

80 - 100

∞

Cannot be crafted

35

Intelligence +34
Vitality +13

90 - 110

∞

50

Intelligence +41
Vitality +15

110 - 130

∞

50

Intelligence +45
Vitality +17

120 - 150

∞

Cannot be crafted

50

Intelligence +54
Vitality +20

140 - 180

∞

60

Intelligence +49
Vitality +18

130 - 160

∞

60

Intelligence +65
Vitality +25

160 - 210

∞

70

Intelligence +59
Vitality +22

150 - 190

100

70

Intelligence +68
Vitality +26

170 - 220

100

80

Intelligence +71
Vitality +27

180 - 230

100

90

Intelligence +85
Vitality +32

220 - 280

100

90

Intelligence +586
Vitality +220

1476 - 1982

∞

Cannot be crafted

95

Intelligence +102
Vitality +38

260 - 340

100

97

Intelligence +122
Vitality +46

310 - 410

100

100

Intelligence +146
Vitality +55

370 - 490

100

105

Intelligence +175
Vitality +66

440 - 590

100

110

Intelligence +210
Vitality +79

528 - 708

100

113

Intelligence +252
Vitality +95

634 - 850

100

120

Intelligence +302
Vitality +114

760 - 1020

100

130

Intelligence +392
Vitality +148

988 - 1326

100

140

Intelligence +510
Vitality +192

1284 - 1724

100

140

Intelligence +650
Vitality +250

1700 - 2250

100

Magic:

Riva's Strength

Lv1

<Special Ability> Increases spell effects by 20.0%.

When equipped by a

Necromancer

: Normal attacks absorb 1.0% of

Damage

as

Health

Cannot be crafted

150

Intelligence +586
Vitality +220

1476 - 1982

100

150

Intelligence +740
Vitality +278

1867 - 2507

100

Magic:

Harmony of the Firmament

Lv1

Enhance (DEX): Increases

Attack Power

by 2,0% of

Dexterity

.

10,0% chance not to consume

Action Power

when using magic.

Cannot be crafted

155

Intelligence +673
Vitality +253

1697 - 2279

100

165

Intelligence +808
Vitality +304

2036 - 2735

100

165

Intelligence +808
Vitality +304

2036 - 2735

100

175

Intelligence +962
Vitality +362

2462 - 3260

100

175

Intelligence +722
Vitality +276

2,210 - 2,445

100