The Hippolyte (Queen Hippolyte) is a grade A Bow Mercenary.
Her arrow can punish many enemies at a time. She can strengthen herself and her allies by using a special spell, which has only been passed on to Queen of the Amazons. And She uses Spell of the Amazoness, which resets the Combo Count and Abnormal Conditions of allies and Arrow of Curse, which places a curse upon the enemy.
You can have up to 1 of this mercenary.
Assessment
[
]
Hippolyte is an excellent PvE and PvP mercenary.
Characteristics
[
]
Attributes
[
]
Basic Attack
[
]
Recruitment
[
]
Upgrades
[
]
Multi-Hued Soul Crystal and Multi-Hued Soul Jewel.
Skills
[
]
This Mercenary can use these Magic Skills:
With an ancient tribal spell, the Hippolyte imbues an arrow with a curse to blind the enemy.
With the voice of the Hippolyte, allies' Attack Power, Multi-Hit Rate and Accuracy are increased (AoE).
By using the secret incantation only known to the Queen of the Amazons, the Hippolyte heals, removes skills and removes stun status from allies.
The will of the queen maintains the body at its best condition.
History
[
]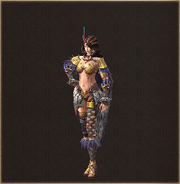 The Hippolyte was introduced in the New Mercenary: Amazonian Queen Hippolyte update.