HAINAN EVENT

Feel the heat of summer with the release of Hainan Fireworks Event. Let's party and enjoy the beautiful scenery until dawn. Mr. Klutz and the Festival Captain Ruka are waiting for you at Hainan Island, they will give awesome quests with cool rewards. So what are you waiting for Atlantians? Let's chill and enjoy the party in-game.
Event Duration: July 11, 2019 to August 8, 2019 -- extended to August 22
Event Mechanics
[
]
Login to receive Ruka's Invitation, this item will automatically appear in your inventory.
Travel to Hainan Island and speak to Festival Captain Ruka, she will ask for the invitation.
Completing the quest will be rewarded with Fireworks Bait (Event)
Players can also purchase bait from NPC Mr. Klutz, he can be found standing next to Ruka
Fireworks Bait can fish the following:
Festival Firecracker (Event)
Fireworks Marble (Event)
Fireworks Marble can also obtain after successful persuading special event Acongs.
Proceed to NPC Sullen Sully for the continuation of the quest at Hainan Island.
The quest is to find the Traveling Acong, Free Spirit Acong, and Wayfaring Acong. These special event Acongs can be found traveling the world.
Persuade the special event Acongs to join Sullen Sully.
Once a successful persuade an Acong, they will go to Sullen Sully and reward the player with 10 Fireworks Marbles.
Once the players have accumulated enough event materials, players can exchange them to Mr. Klutz for festive rewards.
NPC Mr. Klutz
[
]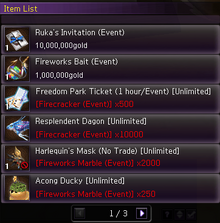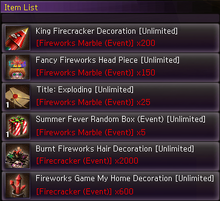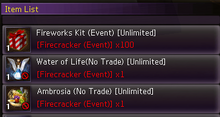 What are you waiting for, login now and start collecting Festival Firecracker and Fireworks Marble.
Cool and amazing rewards awaits you.