A Gun is a ranged weapon that can hit a full column (up to 3) of enemies, even non-consecutive ones (e.g. can fire across a gap in a column) in a formation, including flyers.
Attack grid: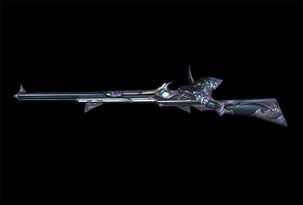 Guns are used by the Rifleman main character class and mercenary classes Gunner, Inventor, Janissary, Patriot, Sheriff, Trainee Bai Xian and Trainee Shao Xian.
Crafting
[
]
Most weapons in Atlantica Online can be crafted. See the Gun Crafting and Weapon Crafting pages for details.
Guns
[
]
The following tables lists the different guns, the minimum character level required to use the weapon, and the attack power and dexterity bonuses for each enchantment level.
Item Name
Level
Stats
Base Attack
Durability
Other

1

Dexterity +8

50 - 60

∞

10

Dexterity +310

1868 - 2413

100

<Special Ability>
Cannot be traded normally
Cannot be crafted

15

Dexterity +12

80 - 90

∞

25

Dexterity +15

90 - 110

∞

25

Dexterity +17

100 - 120

∞

Cannot be crafted

35

Dexterity +18

110 - 130

∞

50

Dexterity +22

130 - 160

∞

50

Dexterity +24

150 - 180

∞

Cannot be crafted

50

Dexterity +29

180 - 210

∞

60

Dexterity +26

160 - 190

∞

60

Dexterity +34

210 - 260

∞

70

Dexterity +31

190 - 230

100

70

Dexterity +36

220 - 270

100

Cannot be crafted

80

Dexterity +37

230 - 280

100

90

Dexterity +44

270 - 340

100

90

Dexterity +44

460 - 590

100

Cannot be traded normally
Cannot be crafted

90

Dexterity +307

1846 - 2385

∞

Cannot be crafted

95

Dexterity +53

320 - 410

100

96

Dexterity +77

460 - 590

100

97

Dexterity +64

380- 490

100

100

Dexterity +77

460 - 590

100

100

Dexterity +230

1430 - 1890

100

Magic:

Lucifer's Wrath

Lv1

<Special Ability> 20.0% bonus physical damage to 2 enemies in a line.

Cannot be crafted

101

Dexterity +100

800 - 1000

100

Magic:

Lightning Bullets

Lv1

Cannot be crafted

105

Dexterity +92

550 - 710

100

110

Dexterity +110

660 - 852

100

113

Dexterity +132

792 - 1022

100

120

Dexterity +158

950 - 1227

100

130

Dexterity +205

1235 - 1595

100

140

Dexterity +267

1606 - 2074

100

150

Dexterity +307

1846 - 2385

100

150

Dexterity +388

2335 - 3016

100

Magic:

Resolve of the Firmament

Lv1

Enhance (DEX): Increases Attack Power by 2,0% of DEX.

The first hit will be a critical hit if Health is 10,0% or below.

Cannot be crafted

150

Dexterity +505

2430 - 3137

100

Special:

Critical

Damage + 20.0%

Cannot be crafted

155

Dexterity +353

2123 - 2742

100

165

Dexterity +424

2548 - 3290

100

175

Dexterity +505

3037 - 3921

100
Event Guns
[
]
Item Name
Level
Stats
Base Attack
Durability
Other

90

Dexterity +158

950 - 1227

100

Magic:

Show of Force

Lv1

<Special Ability> Exp Increased by 10% when attacking with physical damage

Cannot be crafted

120

Dexterity +307

1846 - 2385

100

Magic:

Show of Force

Lv10

Increases Attack Power by 2,0% of DEX

<Special Ability> Allows Washington to use

Patriotic Resolve

regardless of Health (PvE only)

Cannot be crafted

90

Dexterity +307

1846 - 2385

∞