The Goddess (Roro Kidul) is a grade B Staff Mercenary.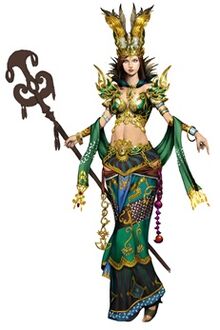 The Goddess harnesses the power of the sea to protect and empower her allies.
Her Divine Will fills her allies with the fury of the ocean, causing them to attack with renewed strength. With Ocean Blessing magic, she shields allies from magic and protects them from being stunned. Finally, her Aquatic Barrier spell bolsters the main character's magic defenses.
You can have up to 1 of this mercenary.
Characteristics
Edit
Attributes
Edit
Basic Attack
Edit
Recruitment
Edit
Upgrades
Edit
Redemption Soul Crystal and Redemption Soul Jewel.
This Mercenary can use these Magic Skills:
The power of the sea protects allies from Magic and Heals their wounds. It also reduces the Combo Count by 1.
The magnanimous protection of the goddess falls upon the Main Character, increasing Magic Defense and Health.
Sends allies into a frenzy, increasing their offensive strength and causing them to attack enemies.