The Gladiator (Spartacus) is a grade A Sword Mercenary.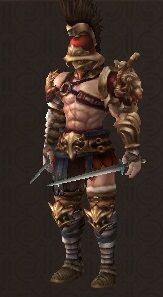 The Gladiator was an armed combatant who entertained audiences in the Roman Republic and Roman Empire in violent confrontations with other gladiators, wild animals, and condemned criminals.
Use Warpath to deal enemies both physical and powerful Magic Damage, and to spread the Cry of Liberation to confuse and control the enemy. He can also significantly increase his Attack Power and Hit Rate by using Gladiator's Grit.
You can have up to 1 of this mercenary.
Assessment
[
]
Characteristics
[
]
Attributes
[
]
Basic Attack
[
]
Recruitment
[
]
Upgrades
[
]
Multi-Hued Soul Crystal and Multi-Hued Soul Jewel.
Skills
[
]
This Mercenary can use these Magic Skills:
When attacking, deals bonus Magic Damage to enemy targets.
Applies confusion to enemy formation. Cannot be dispelled by divine spells.
Increase Attack Power and Accuracy.