Patch Notes: Enter the Magician's Tower!
Edit
New Dungeon: Magician's Tower
Edit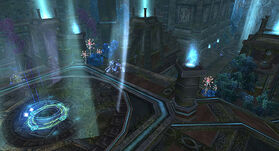 The new Magician's Tower dungeon has been added! This dungeon is located in West Atlantis for players level 160 and above. However, the content is recommended for players above level 165. The Magician's Tower is made up of three floors, and each floor is harder than the one previous! This dungeon also continues the main story line.
New Ind. Dungeon: Polluted Magic Control Center
Edit
Within the Magician's Tower you can discover the new individual dungeon, the Polluted Magic Control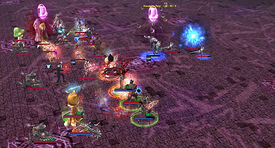 Center! Grab some friends and enter as a party of three. Make sure one person in the group has the Magic Power Control Center Pass, required to gain entry! You can purchase a Magic Power Control Center Pass from NPC Pointry for 3,000 Battle Points. Once inside, you have 15 minutes to defeat all 25 monsters within the dungeon. The dungeon normally has a 20-hour cooldown, but from February 18 to March 17 the cooldown is only 10 hours! Once you complete the dungeon, everyone in your party will receive the Polluted Magic Control Center Reward Box which will be sent to their mailbox.
New Legendary Weapon: Dark Abyssal Instrument
Edit
As you navigate the Polluted Magic Control Center, you have a chance to acquire the newest Legendary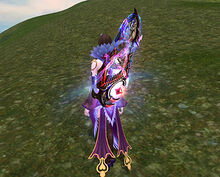 weapon—the Dark Abyssal Instrument! This weapon has a chance to drop from boss monsters, and can also be randomly obtained through the Polluted Magic Control Center Reward Box. Check out its stats!
New Socket System: Star Stones
Edit
Add sockets to your items in order to equip a Star Stone! Star Stones are new items that can be used to enhance the performance of your equipment.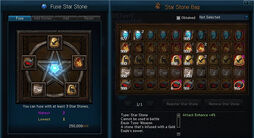 With the new socket system, you can apply sockets to various pieces of equipment.
Sockets can only be applied to an item one time, and 1-3 sockets will be applied at that time.
Accessories can only have one socket, and you cannot apply sockets at all on clothes/hats/mounts/decorations.
You can also use Atlas Restoration Ore to remove the socket, which restores the item to its previous non-socketed state.
The amount of Atlas Restoration Ore required to remove the socket will differ depending on the level of the equipment.
Star Stones
Edit
Star Stones are new items that can be attached to a socketed piece of equipment in order to give it additional stats.
Each Star Stone is ranked from 1 to 5, and total of 60 different Star Stones are available.
Star Stones can be registered in the Star Stone Bag. You can then select stones from the bag to equip in a socket, or fuse multiple stones together.
Fusing Star Stones consumes 3 to 5 Star Stones to obtain one random Star Stone, and requires paying a gold fee.
Depending on the rank of the Star Stone, the gold cost for fusion may vary.
If high-ranked stones are fused, a higher-ranked Star Stone can be obtained.
Star Stones drop in the following dungeons: Ind. 90/94/101/105, Training Center, all Nation Dungeons and all Guild Dungeons except Ruined Shrine of Snakes/Marksburg. These items are tradeable.
Atlas Restoration Ore
Edit
Atlas Restoration Ore is required in order to remove sockets from equipment.
This item will be available in the Item Mall at all times. This item is tradeable.
Can also be obtained from SpellTower Reward – Magic Source. This item is not tradeable.
Star Stone Bag
Edit
Star Stones must be registered in the Star Stone Bag before they can be socketed or fused.
Access your Star Stone Bag by clicking the right-side shortcut, then right-click the Star Stone in the inventory, and then select [Game Info] - [Star Stone Bag].
Select [Register Star Stone] to store Star Stones in the bag. Select [Remove Star Stone] to return a Star Stone to your inventory.
The maximum number of Star Stones you can hold is 10,000 per type, and any excess will be sent to the mailbox.
Once Star Stones are registered to the Star Stone Bag, you can fuse them, add Star Stones to equipment, add sockets to equipment, or reset sockets.
Market Search
Edit
Because Star Stones can be attached to equipment, a new search condition has been added to the advanced options in the Market. When purchasing an item, you can check the additional stat info that has been applied through use of Star Stones.
Valentine's Day Event
Edit
Event Duration : 2/18-3/17
Edit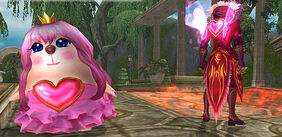 Feel the love! Stay logged in to Atlantica Online to earn an event dungeon ticket, and use it to enter the Three Tunnels of Love. Defeat the monsters inside each of the three dungeons to earn a Heart-to-Heart token. You can also complete daily quests to earn additional tokens. Take your tokens to the Sweetheart Acong at the Three Tunnels of Love to exchange them for some sweet items including an Acong Buddy Mount (No Trade), Wings of Love Decoration (No Trade), Gigas: Guardian of Love Mercenary Skin (No Trade), and every weekend enjoy 2x Party Experience until the end of the event!
New Enhance System
Edit
NPC Smart Robo has been added at Rome's Bazaar.
Smart Robo can enhance equipment using Equipment Boxes and gold.
Enhancing a Judgment Sword will require a Judgement Equipment Box along with gold.
Failing an enhance will not break the item.
There is a chance for equipment to drop in rank using NPC Smart Robo.
NPC Smart Robo has the ability to increase an item's rank by three enhancement ranks.
NPC Smart Robo will not take any item above +5 rank.
General Improvements
Edit
A function to open up to 50 boxes at once has been added. Select Boxes and Challenge Boxes cannot be opened with this system. Items will be sent to the mailbox when opened with this system.
The ability to start Guild Crafts remotely has been added. A new menu in the guild tab can be used to start Guild Crafts, regardless of location.
Arena of Atlantis Hot Time
Edit
Play Arena of Atlantis (AoA) and receive increased EXP and LP (Arena of Atlantis Points) during the Hot Time periods! The AoA Hot Time UI will be displayed separately above the chat window on the left-side.
WEEKDAYS
| | | | |
| --- | --- | --- | --- |
| Start Time (Pacific) | Start Time (Eastern) | Duration | Amount Increased |
| 2:00 PM | 5:00 PM | 60 minutes | 50% |
| 6:00 PM | 9:00 PM | 60 minutes | 50% |
| 8:00 PM | 11:00 PM | 60 minutes | 50% |
| 11:00 PM | 2:00 AM | 60 minutes | 50% |
WEEKENDS
| | | | |
| --- | --- | --- | --- |
| Start Time (Pacific) | Start Time (Eastern) | Duration | Amount Increased |
| 1:00 PM | 4:00 PM | 120 minutes | 100% |
| 4:00 PM | 7:00 PM | 120 minutes | 100% |
| 7:00 PM | 10:00 PM | 120 minutes | 100% |
| 10:00 PM | 1:00 AM | 120 minutes | 100% |