Enter the Grimm Woods
Edit
Wilhelm, the youngest of the Brothers Grimm, has always been fascinated by fairy tales: His dream has always been to create a living world of his favorite stories. After years of research, Wilhelm feels confident in his new theory to finally create a fairy tale realm. Unfortunately, Wilhelm's unfamiliarity with Oriharukon didn't prepare him for the unstable magic it creates, and The Grimm Woods are in danger of breaking into the real world! The task now falls to you, to enter the Grimm Woods and restore the order in this land of imagination!
The Grimm Woods
Edit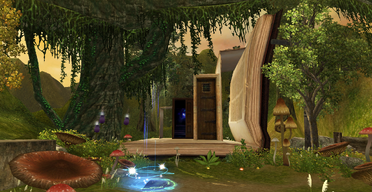 Dungeon Release: Thursday, June 4, 2015
Visit the Fantastic Brothers Grimm for your quests, they will be waiting for you near the entrance of the Grimm Woods in Southern Europe
Complete the Fantastic Brothers Grimm quests to obtain the Grimm Key, which is needed to enter the Grimm Woods
Enter the Grimm Woods and complete the quest objectives to earn a Dusty Grimm Box!
You will be able to repeat the quest every Tuesday, Thursday and Saturday
Dungeon Details
The Grimm Woods is an Individual Dungeon that consists of 1 floor
You must be at least Lv. 155 to enter (Lv. 165 with a party is recommended)
You will have 20 minutes to complete the quest objectives
The dungeon will have a 20 hour cooldown
Completing the dungeon and restoring order to the Grimm Woods will earn you a Dusty Grimm Box. This box will allow you to recruit the Brothers Grimm, reward you with a rare Orb, the Grimms' Magic Source, or a number of other useful items that will help you in your daily adventures.
+5 Grimms' Magic Source
Grimms' Magic Source
Grimms' Fairy Tales
Book: Red Riding Hood [I], [II], [III], or [IV]
Book: Musicians of Bremen [I], [II], [III], or [IV]
Book: Mother Hulda [I], [II], [III], or [IV]
Twilight Equipment Box
Evil Judgment Equipment Box
Evil Dark Pegasus Equipment Box
Enchanted Pegasus Equipment Box
Atlantis Platinum Coins
Atlantis Gold Coins
Purified Enchant Stones
Grimm Key
Grimm Woods Celebration!
Edit
Event Dates: Thursday, June 4 - Thursday, July 2
To commemorate the opening of the Grimm Woods, we'll be hosting some buff events, and even double the rewards from completing Grimm Woods!
Grimm Woods Double Drop
Upon completion of the Grimm Woods, you'll receive an extra Dusty Grimm Box! You'll have two chances of getting the rare Grimm's Magic Source, or even the Brother's Grimm themselves!
Buff Events
Make Sure you log-in to Atlantica Online to enjoy new buffs from June 4 until July 2!
Day
Buff
Mondays
+50% Attack Power
Tuesdays
+50% Attack Power
Wednesdays
+100% Bonus Experience
Thursdays
+100% Crafting Experience


+100% Workload

Fridays
+100% Bonus Experience
Weekend 1


Sunday, June 7

+50% Attack Power


+200% Bonus Experience

Weekend 2


Saturday, June 13
Sunday, June 14

+50% Attack Power


+200% Bonus Experience

Weekend 3


Saturday, June 20
Sunday, June 21

+200% Crafting Experience


+200% Workload

Weekend 4


Saturday, June 27
Sunday, June 28

+1.5x Arena of Atlantis Experience