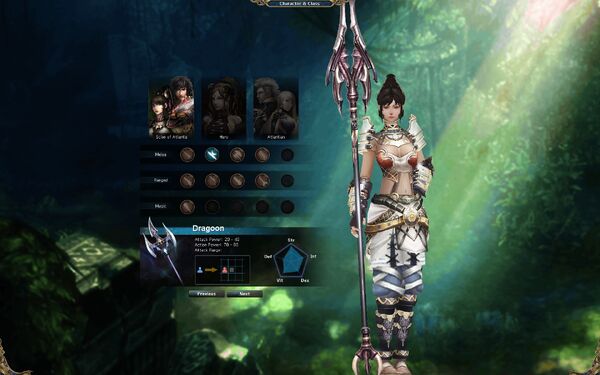 The
Dragoon
is a
Spear
main character
class.
Dragoons can strike the first two enemies in a column, dealing half damage to the second target. They are the most fragile class among the melee classes, but counterbalanced by their very high Attack Power. Their skills specialize in lowering their enemies' Action Power. Dragoon main grants +4, +4 & +4 (PvE) | +4, +4 & +4 (PvP) Multi-Hit, Critical & Accuracy stats to your entire formation.
The reach of your spear allows you to strike two enemies in a column with high attack power. You can use Lightning Spear magic to cause damage to you enemies while slowing them down. A melee character cannot attack enemies in the air.
Basic Info
Edit
Attributes
Edit
Bonus Stats
Edit
The Dragoon gets the following bonus stats:
Level 100 Upgrade Skill
Edit
You must complete the Main Character level 100 Upgrade quest line to learn this skill.
Level 120 Upgrade Skills
Edit
You can learn only one of these skills. These skills can only be learned after level 120 upgrade.
The Talent System allows Main Characters level 130 and above to choose additional bonuses.
Level 130 Talents
Edit
Talents
Grade

Lv.1

Lv.2

Lv.3

Lv.4

Lv.5

Lv.6

Lv.7

Lv.8

Lv.9

Lv.10

[ Increases Attack Power by ]

350

700

1,050

1,400

1,750

2,100

2,450

2,800

3,150

3000

[ Increases Max Health by ]

2,400

4,800

7,200

9,600

12,000

14,400

16,800

19,200

21,600

24,000

[ Increases Magic Level by ]

1

2

3

4

5

6

7

8

9

10
Level 140 Talents
Edit
Talents
Grade

Lv.1

Lv.2

Lv.3

Lv.4

Lv.5

Lv.6

Lv.7

Lv.8

Lv.9

Lv.10

[ When making basic attacks, increases the damage taken by the closer target by %, the damage taken by the further target by %, and the damage taken by bosses by % ]

2,5%
5%
5%

5%
10%
10%

7,5%
15%
15%

10%
20%
20%

12,5%
25%
25%

15%
30%
30%

17,5%
35%
35%

20%
40%
40%

22,5%
45%
45%

25%
50%
50%

[ When hit with a magic attack, grants % chance to counterattack with % of your Attack Power, and increases lightning resistance by % ]

10%
1,5%
1,5%

20%
3%
3%

30%
4,5%
4,5%

40%
6%
6%

50%
7,5%
7,5%

60%
9%
9%

70%
10,5%
10,5%

80%
12%
12%

90%
13,5%
13,5%

100%
15%
15%

[ Increases Multi-Hit Rate by #, Accuracy by # and Critical by % ]

2
2
2%

4
4
4%

6
6
6%

8
8
8%

10
10
10%

12
12
12%

14
14
14%

16
16
16%

18
18
18%

20
20
20%
Level 150 Talents
Edit
Talents
Grade

Lv.1

Lv.2

Lv.3

Lv.4

Lv.5

Lv.6

Lv.7

Lv.8

Lv.9

Lv.10

[ Critical hits deal % additional damage ]

15%

30%

45%

60%

75%

90%

105%

120%

135%

150%

[ When hit with a magic attack, grants % chance to counterattack with % of your Attack Power, and increases lightning resistance by % ]

10%
1,5%
1,5%

20%
3%
3%

30%
4,5%
4,5%

40%
6%
6%

50%
7,5%
7,5%

60%
9%
9%

70%
10,5%
10,5%

80%
12%
12%

90%
13,5%
13,5%

100%
15%
15%

[ Increases Strength by ]

150

300

450

600

750

900

1,050

1,200

1,350

1,500
Level 160 Talents
Edit
Talents
Grade

Lv.1

Lv.2

Lv.3

Lv.4

Lv.5

Lv.6

Lv.7

Lv.8

Lv.9

Lv.10

[ Increases Physical Attack Power by % as health decreases ]

3%

6%

9%

12%

15%

18%

21%

24%

27%

30%

[ Restores % of your Max HP every turn ]

1%

2%

3%

4%

5%

6%

7%

8%

9%

10%

[ Restores Health by as much as % of the damage dealt to the enemy with a regular attack ]

1%

2%

3%

4%

5%

6%

7%

8%

9%

10%
Level 170 Talents
Edit
| Grade | Lv.1 | Lv.2 | Lv.3 | Lv.4 | Lv.5 | Lv.6 | Lv.7 | Lv.8 | Lv.9 | Lv.10 |
| --- | --- | --- | --- | --- | --- | --- | --- | --- | --- | --- |
| | 20 | 40 | 60 | 80 | 100 | 120 | 140 | 160 | 180 | 200 |
| | 0.5 | 1 | 1.5 | 2 | 2.5 | 3} | 3.5 | 4 | 4.5 | 5 |
| | 2, 5 | 4, 10 | 6, 15 | 8, 20 | 10, 25 | 12, 30 | 14, 35 | 16, 40 | 18, 45 | 20, 50 |
Level 180 Talents
Edit
| Grade | Lv.1 | Lv.2 | Lv.3 | Lv.4 | Lv.5 | Lv.6 | Lv.7 | Lv.8 | Lv.9 | Lv.10 |
| --- | --- | --- | --- | --- | --- | --- | --- | --- | --- | --- |
| [ Increases Attack Power by % and Health of Mercenaries by % . ] | 1 | 2 | 3 | 4 | 5 | 6 | 7 | 8 | 9 | 10 |
| | 2 | 3 | 5 | 7 | 8 | 9} | 10 | 11 | 13 | 15 |
| | 10 | 20 | 30 | 40 | 50 | 60 | 70 | 80 | 90 | 100 |