The Demeian Guardian (Sylvie) is a grade B Cannon Mercenary.
Sylvie combines Atlantian magic with Akademeian technology. A loyal servant of Prince Radiant, she is doing her part to make the world safer for her people.
Her Preemptive Strike spell slows down enemies by decreasing their action power, multi-hit rate and accuracy, while Demeian Tactics passively boosts the accuracy and evasion of all nearby allies. In times of need, she can launch a Flashbang to demolish enemy action power.
Sylvie is 1 of only 2 flying mercenaries (Witch is the other).
Sylvie was introduced to Atlantica Online in the Sylvie - Devastating Demeian Power update.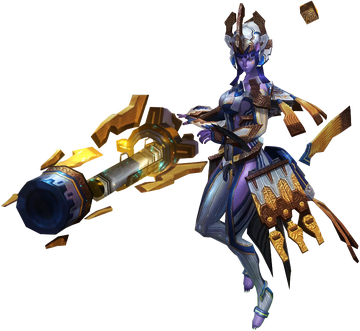 You can have up to 1 of this mercenary.
Characteristics
Edit
Attributes
Edit
Basic Attack
Edit
Recruitment
Edit
Upgrades
Edit
Dragon Soul Crystal and Dragon Soul Jewel.
This Mercenary can use these Magic Skills:
All 3 of the Demeian Guardian's magic skills were updated to scale with the level of the mercenary in the Perils of Avalon patch.
Demeian magic flows through your Formation, boosting allies' Accuracy and Evasion Rate (AoE).
Disorient your enemies with a flash of blinding light, decreasing their Action Power.
Ranged enemies suffer decreased Attack Power, Multi-Hit rate and Accuracy (AoE).