Daily Exploration has Arrived!
Edit
Every day in Atlantica Online is an adventure, and it only makes sense to receive rewards for each day you continue your journey. Beginning May 1st, you'll be rewarded for just logging on, with the new Daily Exploration feature!
Daily Exploration
Edit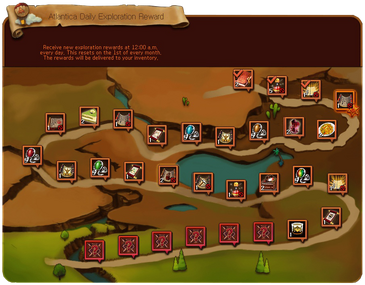 Start Date: May 1st
The Exploration Map will track your log-ins. If you log in daily for the entire month, you'll get the best rewards!
If you miss a day, your Exploration Map will not progress, however it will not reset! Be mindful, while the Exploration Map does not reset, if you miss a day you will not be eligible for the end of the month prize.
Your reward for the day will be delivered straight to your inventory, so look for it there! Unlike previous attendance events, this is permanent content. There is no need to "check in"!
Daily log-in times are from 12 AM - 11:59 PM Pacific.
The map will reset monthly. The reset will happen at the start of the next month, 12 AM Pacific.
Rewards from the Exploration Map will change monthly!
What are you waiting for? Log-in and earn some free rewards to help you with your day-to-day adventures!