Craft tiers

| Title | Level |
| --- | --- |
| Apprentice | 1 |
| Artisan | 11 |
| Craftsman | 21 |
| Expert | 51 |
| Master | 71 |
| Grandmaster | 91 |
| Perfect Artisan | 140 |
Crafting is the ability to make new items from component items. There are dozens of craft skills available to learn and no limit to how many a single player can learn at once. Craft skill ability is measured by a player's craft skill level, ranging from one to 180. The higher a craft skill level, the more items a player can craft from that discipline.
New Player Tips
[
]
Antillia Artisan District has 3 generic crafting NPCs that can level various crafts up to level 51. Go visit these soon after creating a new character. You can get there from the Go To City button on the right side of the screen.
Pro Tip: to find out if an item can be crafted, check guild crafting. If it can be crafted, it will be listed here, whether you can personally craft it or not. You can use this to see if items can be crafted, what level and which crafting skill it needs, and what crafting materials are required.
Pro Tip: to quickly buy crafting materials for any item, find the item in the market. Once you do, the Material list shows all of the materials you need and in which quantity and you can immediately buy them.
Craft Experience and Skill Ups
[
]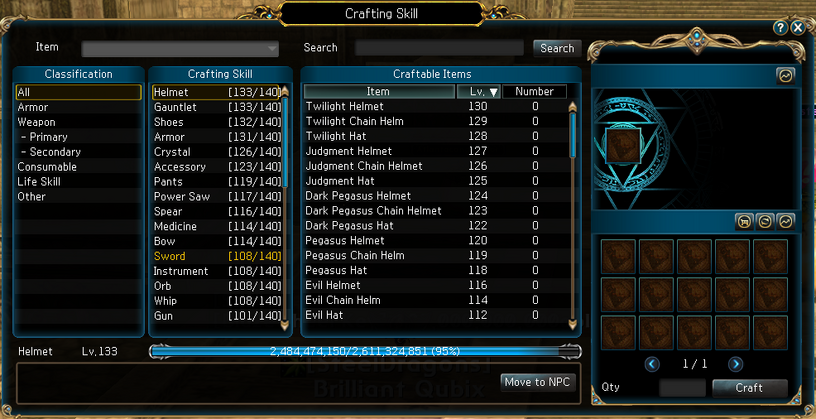 Craft skills can be improved by gaining craft experience. Craft experience can be acquired through personal crafting (at a rate of 1 Exp point per every full multiples of 50 workload required to complete the craft), guild crafting (1 Exp for every 100 craft contribution), dismantling of items, analysis of items(as dismantling, but can do it only once a day, more if Atlas Ore used in Diary, seems to give the same experience as crafting the item times a coefficient related to its enchantment bonus and multiplied again by a random factor between 1 and 20) or teaching skill levels from a given discipline.
Craft skills do not increase in level automatically upon obtaining enough experience. Instead, experience continues to accrue until the level is increased manually, either by learning from a crafting NPC or a player who is at least one tier higher.
Currently Skills can be increased up to level 180.
Crafted Item Levels
[
]
When crafting items that can have + levels, such as armor and weapons, the result of the craft can range from +0 to +8. Of course, the higher the + level, the rarer such an outcome is. You will mostly get +0, but frequently +1 and +2, sometimes +3 or +4, rarely anything above that.
Getting these random higher levels when crafting can have a huge impact on the cost of crafting. If you pay for the materials to craft +0 items, but you get +2 items, the value of those resulting +2 items will be, on average, 4 times greater than +0 items. This can even make up for paying more for crafting mats than you would to simply buy the already crafted item from the market.
This applies to craftable Accessories (Necklaces and Rings), Armors, Helmets, Gauntlets, Orbs, Pants, Shields, Shoes, Weapons.
Repairing Crafted Items
[
]
If you can craft an item, such as armor and weapons, you can also repair it, without loss of durability. This can save you a lot of gold compared to having to have NPC Reginn repair items for you for Atlas Ore Fragments. See the Repair page for details.
This applies to craftable Accessories (Necklaces and Rings), Armors, Helmets, Gauntlets, Orbs, Pants, Shields, Shoes, Weapons.
Teaching
[
]
Teaching experience

| Level | Experience |
| --- | --- |
| 1 | 100 |
| 2 | 500 |
| 11 | 800 |
| 21 | 1000 |
| 31 | 2000 |
| 41 | 3000 |
| 51 | 5000 |
Craft levels are grouped into named tiers as shown in the table above. Except for apprentices, each time a player reaches a new crafting tier for a given craft skill, the player is granted the ability to teach other players the levels contained within that tier. For example, an artisan (artisan = level 11-20 in a skill discipline) can teach players that craft skill up to skill level 10. After level 110 you can only learn skills from NPCs in Antillia Artisan District. Teaching a craft skill grants experience to the teacher, depending on the level taught.
Crafting Types
[
]
Personal Crafting
[
]
Personal crafts include all types of crafts listed under My Info > Crafting Skill. Excluded are My Home Crafting exclusive crafting items.
Only you can contribute to personal crafts, no other players can help.
If the Personal Craft is cancelled, you lose all of the materials for that craft job.
You can contribute to personal crafts by:
Guild Crafting
[
]
Guild Crafting is a Crafting type that anyone in your guild can contribute to.
My Home Crafting
[
]
My Home Crafting is the type of crafting that you start in your home via an Artisan you employ in your home.
3 crafts can be performed simultaneously with Personal Craft, Workshop, and Kitchen.
My Home Crafting can also contribute to Quest Crafts.
Only you can contribute to personal crafts, no other players can help.
You can contribute to my home crafts by:
Quest Crafting
[
]
Quest Crafting is the crafting of items specifically for quests. Quest crafts can be started from My Info > Crafting Skill > Other > Quest. If a quest crafting job is part of an active quest, it will be listed at the top of the Quest Crafting listed and highlighted in yellow.
All other personal crafting rules apply.
Generic Crafting NPCs
[
]
There are a few NPCs who can teach several crafting skills.
List of Craft Skills
[
]
The following NPCs can raise crafting skills past level 51.
Weapons
[
]
Armor
[
]
Ammunition
[
]
Other
[
]
Experience
[
]
The following tables show how much craft experience is needed to progress each craft skill to a given level.
| Level | Experience |
| --- | --- |
| 1 | 0 |
| 2 | 42 |
| 3 | 104 |
| 4 | 204 |
| 5 | 364 |
| 6 | 612 |
| 7 | 976 |
| 8 | 1,490 |
| 9 | 2,193 |
| 10 | 3,128 |
| 11 | 4,341 |
| 12 | 5,885 |
| 13 | 7,818 |
| 14 | 10,202 |
| 15 | 13,106 |
| 16 | 16,606 |
| 17 | 20,780 |
| 18 | 25,724 |
| 19 | 31,540 |
| 20 | 38,331 |
| Level | Experience |
| --- | --- |
| 21 | 46,224 |
| 22 | 55,350 |
| 23 | 65,845 |
| 24 | 77,869 |
| 25 | 91,588 |
| 26 | 107,175 |
| 27 | 124,828 |
| 28 | 144,750 |
| 29 | 167,160 |
| 30 | 192,295 |
| 31 | 220,406 |
| 32 | 251,753 |
| 33 | 286,627 |
| 34 | 325,326 |
| 35 | 368,180 |
| 36 | 415,530 |
| 37 | 467,752 |
| 38 | 525,232 |
| 39 | 588,394 |
| 40 | 657,675 |
| Level | Experience |
| --- | --- |
| 41 | 733,546 |
| 42 | 816,499 |
| 43 | 907,062 |
| 44 | 1,005,781 |
| 45 | 1,113,245 |
| 46 | 1,230,060 |
| 47 | 1,356,876 |
| 48 | 1,494,365 |
| 49 | 1,643,244 |
| 50 | 1,804,255 |
| 51 | 1,978,188 |
| 52 | 2,165,847 |
| 53 | 2,368,499 |
| 54 | 2,586,879 |
| 55 | 2,822,194 |
| 56 | 3,075,629 |
| 57 | 3,348,452 |
| 58 | 3,642,020 |
| 59 | 3,957,785 |
| 60 | 4,297,300 |
| Level | Experience |
| --- | --- |
| 61 | 4,662,227 |
| 62 | 5,054,090 |
| 63 | 5,474,505 |
| 64 | 5,925,185 |
| 65 | 6,407,945 |
| 66 | 6,924,709 |
| 67 | 7,477,218 |
| 68 | 8,067,299 |
| 69 | 8,696,824 |
| 70 | 9,367,757 |
| 71 | 10,082,146 |
| 72 | 10,842,126 |
| 73 | 11,650,062 |
| 74 | 12,508,554 |
| 75 | 13,420,451 |
| 76 | 14,388,857 |
| 77 | 15,417,146 |
| 78 | 16,508,977 |
| 79 | 17,668,295 |
| 80 | 18,899,355 |
| Level | Experience |
| --- | --- |
| 81 | 20,206,727 |
| 82 | 21,595,301 |
| 83 | 23,070,505 |
| 84 | 24,638,311 |
| 85 | 26,305,266 |
| 86 | 28,078,511 |
| 87 | 29,965,813 |
| 88 | 31,975,578 |
| 89 | 34,116,885 |
| 90 | 36,399,509 |
| 91 | 38,833,942 |
| 92 | 41,431,421 |
| 93 | 44,203,958 |
| 94 | 47,164,362 |
| 95 | 50,326,392 |
| 96 | 53,704,797 |
| 97 | 57,315,344 |
| 98 | 61,174,862 |
| 99 | 65,301,264 |
| 100 | 69,713,595 |
| Level | Experience |
| --- | --- |
| 101 | 74,567,159 |
| 102 | 79,954,615 |
| 103 | 85,988,566 |
| 104 | 92,806,931 |
| 105 | 100,579,866 |
| 106 | 109,441,013 |
| 107 | 119,631,331 |
| 108 | 131,452,101 |
| 109 | 145,164,193 |
| 110 | 161,207,341 |
| 111 | 179,977,825 |
| 112 | 202,126,995 |
| 113 | 228,263,017 |
| 114 | 259,364,882 |
| 115 | 296,376,102 |
| 116 | 340,419,453 |
| 117 | 392,831,041 |
| 118 | 455,200,831 |
| 119 | 529,420,881 |
| 120 | 617,742,741 |
| Level | Experience |
| --- | --- |
| 121 | 722,845,753 |
| 122 | 833,203,917 |
| 123 | 949,079,988 |
| 124 | 1,070,749,864 |
| 125 | 1,198,503,232 |
| 126 | 1,332,644,270 |
| 127 | 1,473,492,359 |
| 128 | 1,621,382,853 |
| 129 | 1,776,667,871 |
| 130 | 1,939,717,141 |
| 131 | 2,104,707,474 |
| 132 | 2,271,638,870 |
| 133 | 2,440,511,329 |
| 134 | 2,611,324,851 |
| 135 | 2,784,079,436 |
| 136 | 2,958,775,084 |
| 137 | 3,135,411,795 |
| 138 | 3,313,989,569 |
| 139 | 3,494,508,406 |
| 140 | 3,676,968,306 |
| Level | Experience |
| --- | --- |
| 141 | 4,371,943,720 |
| 142 | 4,664,756,782 |
| 143 | 4,972,210,497 |
| 144 | 5,295,036,897 |
| 145 | 5,634,004,618 |
| 146 | 5,989,920,725 |
| 147 | 6,363,632,637 |
| 148 | 6,756,030,144 |
| 149 | 7,168,047,527 |
| 150 | 7,600,665,779 |
| 151 | 8,054,914,944 |
| 152 | 8,531,876,567 |
| 153 | 9,032,686,271 |
| 154 | 9,558,536,460 |
| 155 | 10,110,679,159 |
| 156 | 10,690,428,993 |
| 157 | 11,299,166,318 |
| 158 | 11,938,340,510 |
| 159 | 12,609,473,411 |
| 160 | 13,314,162,958 |
| Level | Experience |
| --- | --- |
| 161 | 14,054,086,981 |
| 162 | 14,831,007,206 |
| 163 | 15,646,773,442 |
| 164 | 16,503,327,990 |
| 165 | 17,402,710,265 |
| 166 | 18,347,061,654 |
| 167 | 19,338,630,613 |
| 168 | 20,379,778,019 |
| 169 | 21,472,982,796 |
| 170 | 22,620,847,811 |
| 171 | 23,826,106,078 |
| 172 | 25,091,627,257 |
| 173 | 26,420,424,496 |
| 174 | ---- |
| 175 | -- |
| 176 | -- |
| 177 | -- |
| 178 | -- |
| 179 | -- |
| 180 | -- |