The Clown (Harlequin) is a grade A Sword Mercenary.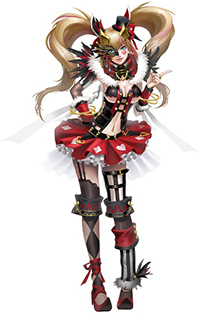 The Harlequin dual wields swords to put on a deadly show. She is more fragile than her fellow sword mercenaries, though she makes up for it in evasion and attack power.
Her mastery of Dell'arte grants her a chance to nullify incoming physical damage. With a Fatal Flourish, she can pour all of her MP into a powerful attack, and with a Masquerade, she can put on a mask to boost her attack power even more.
You can have up to 1 of this mercenary.
Characteristics
Edit
Attributes
Edit
Basic Attack
Edit
Recruitment
Edit
Upgrades
Edit
Multi-Hued Soul Crystal and Multi-Hued Soul Jewel.
This Mercenary can use these Magic Skills:
Your theatrical training grants you a chance to nullify physical damage with your swords.
Completely drains your Magic Points to damage the enemy. The more Magic Points you use, the greater the damage.
Put on your mask to temporarily increase your Attack Power.