The Centaur Archer (Chironia) is a grade A Bow Mercenary.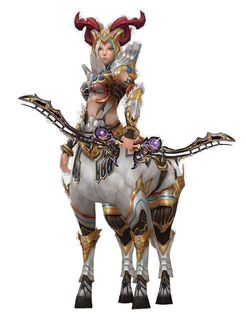 The marksmanship of the Centaurs is legendary, and the Centaur Archer lives up to the legend. Between hard-hitting physical attacks, the Centaur Archer can summon the spirits of ice to rain freezing arrows upon her enemies, damaging them for several turns. Her sturdy body lets her fight back even when she's getting attacked directly, making her a threat both on the offensive and the defensive.
You can have up to 1 of this mercenary.
Assessment
Edit
Chironia is an excellent high damage merc.
Chironia is very expensive (to obtain, upgrade and skill up).
Characteristics
Edit
Attributes
Edit
Basic Attack
Edit
Recruitment
Edit
Upgrades
Edit
Multi-Hued Soul Crystal and Multi-Hued Soul Jewel.
This Mercenary can use these Magic Skills:
The Centaur Archer's Gift of Prometheus and Chione's Fury magic skills were updated to scale with the level of the mercenary in the Perils of Avalon Update.
Arrows of ice rain down, striking the entire enemy Formation at once (AoE). Enemies take ice damage over time (DoT).
Has a chance to imbue the caster's Arrows with fire.
When hit, the Tempest Spirit has a chance to increase Statistics and reduce damage.
Community content is available under
CC-BY-SA
unless otherwise noted.