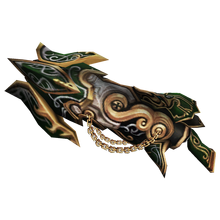 A Cannon is a ranged weapon that can hit up to 5 enemies in a cross pattern anywhere in a formation, but not flyers.
Attack grid:

Cannons are used by the Bombardier main character class and mercenary classes Artilleryman, Automaton, Cannoneer, Demeian Guardian, Folklorist and Trainee Bai Yigai.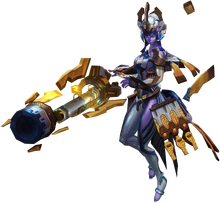 Attacking
[
]
---
A cannon is a weapon used by the mercenary classes Artilleryman and Cannoneer. It is a ranged weapon. It is unique in its attack. You select an enemy to target and it damages that enemy and those adjacent to it.
Examples of attack
    Normal attacks                                  
   o S o    _ _ _  |   S M S    _ _ _   |   o o S    _ _ _
   S M S    c _ _  |   o S o    c _ _   |   o S M    c _ _
   o S o    _ _ _  |   o o o    _ _ _   |   o o S    _ _ _

The "c" represents the cannon wielder and the "M"'s represent the monsters he targeted. The enemies marked "S" are the splash damage he inflicts when attacking that target.
Crafting
[
]
Most weapons in Atlantica Online can be crafted. See the Cannon Crafting and Weapon Crafting pages for details.
Cannons
[
]
Item Name
Level
Stats
Base Attack
Durability
Other

1

Dexterity +6
Intelligence +6

40 - 50

∞

10

Dexterity +237
Intelligence +237

1494 - 1800

100

Cannot be traded normally
Cannot be crafted
<Special Ability>

15

Dexterity +9
Intelligence +9

60 - 80

∞

25

Dexterity +11
Intelligence +11

70 - 90

∞

25

Dexterity +13
Intelligence +13

80 - 100

∞

Cannot be crafted

35

Dexterity +14
Intelligence +14

90 - 110

∞

50

Dexterity +16
Intelligence +16

110 - 130

∞

50

Dexterity +18
Intelligence +18

120 - 140

∞

Cannot be crafted

50

Dexterity +22
Intelligence +22

140 - 170

∞

60

Dexterity +20
Intelligence +20

130 - 150

∞

60

Dexterity +26
Intelligence +26

160 - 200

∞

70

Dexterity +24
Intelligence +24

150 - 180

100

70

Dexterity +27
Intelligence +27

170 - 210

100

Cannot be crafted

80

Dexterity +28
Intelligence +28

180 - 220

100

90

Dexterity +34
Intelligence +34

220 - 260

100

90

Dexterity +34
Intelligence +34

370 - 440

100

Cannot be crafted

90

Dexterity +235
Intelligence +235

1476 - 1779

∞

Cannot be crafted

95

Dexterity +41
Intelligence +41

260 - 310

100

96

Dexterity +59
Intelligence +59

370 - 440

100

97

Dexterity +49
Intelligence +49

310 - 370

100

100

Dexterity +59
Intelligence +59

370 - 440

100

100

Dexterity +65
Intelligence +65

410 - 490

50

Cannot be crafted

100

Dexterity +180
Intelligence +180

1140 - 1370

100

[Magic]

Nemesis' Fury

Lv1

<Special Ability> Ignores 600 of the target's defense.

Cannot be crafted

105

Dexterity +71
Intelligence +71

440 - 530

100

110

Dexterity +85
Intelligence +85

528 - 636

100

113

Dexterity +102
Intelligence +102

634 - 763

100

120

Dexterity +122
Intelligence +122

760 - 916

100

130

Dexterity +158
Intelligence +158

988 - 1,190

100

140

Dexterity +205
Intelligence +205

1,284 - 1,547

100

150

Dexterity +235
Intelligence +235

1,476 - 1,779

100

150

Dexterity +297
Intelligence +297

1,867 - 2,250

100

[Magic]

Hammer of the Firmament

Lv1

<Special Ability> Enhance (DEX): Increases Attack Power by 2.0% of DEX. The first hit of a physical attack has a 5.0% chance to ignore Defense.

Cannot be crafted

150

Dexterity +375
Intelligence +375

2,000 - 2,500

100

[Magic]

Cursed Dream

Lv1

<Special Ability> Ignores 600 of the target's

Defense

Enhance (DEX): Increase

Attack Power

by 2.0% of

Dexterity

.

Cannot be crafted

155

Dexterity +270
Intelligence +270

1,697 - 2,045

100

165

Dexterity +324
Intelligence +324

2,036 - 2,454

100

175

Dexterity +386
Intelligence +386

2,426 - 2,924

100
Event Cannons
[
]
Item Name
Level
Stats
Base Attack
Durability
Other

50

Dexterity +104
Intelligence +104

640 - 800

∞

100

Dexterity +284
Intelligence +284

1760 - 2120

∞