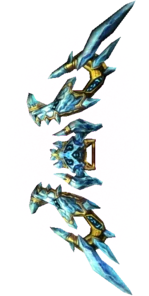 A Bow is a ranged weapon that can any single enemy in a formation, including flyers.
Attack grid:

Bows are used by the Celestial Hunter and Marksman main character classes and mercenary classes Archer, Centaur Archer, Empress, Hwarang and Prophet.
Crafting
[
]
Most weapons in Atlantica Online can be crafted. See the Bow Crafting and Weapon Crafting pages for details.
Bows
[
]
Item Name
Level
Stats
Base Attack
Durability
Other

1

Dexterity +8

50 - 100

∞

10

Dexterity +310

1767 - 3604

100

<Special Ability>
Cannot be crafted

15

Dexterity +12

80 - 150

∞

25

Dexterity +15

90 - 180

∞

25

Dexterity +17

100 - 200

∞

Cannot be crafted

35

Dexterity +18

110 - 210

∞

50

Dexterity +22

130 - 250

∞

50

Dexterity +24

140 - 280

∞

Cannot be crafted

50

Dexterity +29

170 - 330

∞

60

Dexterity +26

150 - 300

∞

60

Dexterity +34

190 - 390

∞

60

Dexterity +36

Strength +5

Intelligence +5

Vitality +5

200 - 410

100

Cannot be crafted

70

Dexterity +31

180 - 360

100

70

Dexterity +36

200 - 410

100

Cannot be crafted

80

Dexterity +37

210 - 430

100

90

Dexterity +44

250 - 510

100

90

Dexterity +44

430 - 880

100

Cannot be crafted

90

Dexterity +307

1745 - 3561

∞

Cannot be crafted

96

Vitality -50

600 - 1100

100

[Magic]

Lightning Arrow

Lv1

Cannot be crafted

95

Dexterity +53

300 - 610

100

97

Dexterity +64

360- 730

100

100

Dexterity +77

430 - 880

100

100

Dexterity +230

1350 - 2750

100

<Special Ability> First Hit Damage will be increased by 20.0%

Cannot be crafted

105

Dexterity +92

520 - 1060

100

105

Dexterity +92

624 - 1272

100

110

Dexterity +110

624 - 1272

100

113

Dexterity +132

749 - 1526

100

120

Dexterity +158

899 - 1832

100

130

Dexterity +205

1168 - 2382

100

140

Dexterity +267

1518 - 3097

100

150

Dexterity +307

1745 - 3561

100

150

Dexterity +388

2208 - 4505

100

<Special Ability> Enhance (DEX): Increases Attack Power by 2,0% of DEX.
The first hit will be a critical hit if Action Power is 290 or higher.
Cannot be crafted

150

Dexterity +500

2,666 - 4,686

100

Magic:

Cursed Dream

Lv1

<Special Ability> First hit damage will be increased by 20.0%

Enhance (DEX): Increases Attack Power by 2.0% of DEX.

Cannot be crafted

155

Dexterity +353

2007 - 4095

100

165

Dexterity +424

2408 - 4914

100

175

Dexterity +505

3332 - 5857

100