We're Getting Mutants in the MCU - The Loop
Play Sound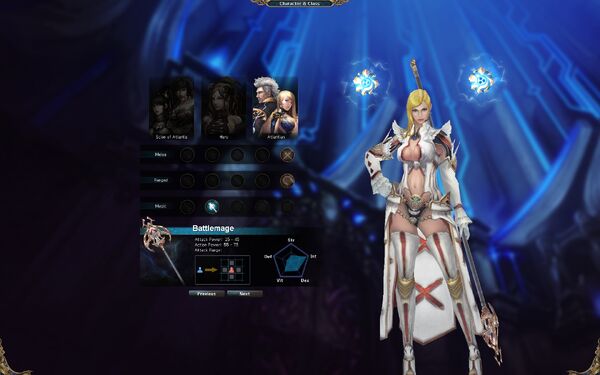 The Atlantian Battlemage is a Staff main character class.
Rain powerful lightning bolts with your staff and amplify your intellect by equipping an orb. When you cast Electron Field, all enemies suffer severe electric damage. You can use Impulse to give you and your allies a boost. At higher levels, your Righteous Bolt electrifies your target, then shocks nearby enemies if it dies.
When you get your specialization, both you and your mercenaries get a boost to magic skills.
Basic Info
[
]
Attributes
[
]
Bonus Stats
[
]
The Atlantian Battlemage gets the following bonus stats:
Skills
[
]
Level 120 Upgrade Skills
[
]
You can learn only one of these skills. These skills can only be learned after level 120 upgrade.
Talents
[
]
The Talent System allows Main Characters level 130 and above to choose additional bonuses.
Level 130 Talents
[
]
Talents
Grade

Lv.1

Lv.2

Lv.3

Lv.4

Lv.5

Lv.6

Lv.7

Lv.8

Lv.9

Lv.10

[ Increases Attack Power by ]

200

400

600

800

1,000

1,200

1,400

1,600

1,800

2,000

[ Increases Max Health by ]

1,600

3,200

4,800

6,400

8,000

9,600

11,200

12,800

14,400

16,000

[ Increases Magic Level by ]

1

2

3

4

5

6

7

8

9

10
Level 140 Talents
[
]
Talents
Grade

Lv.1

Lv.2

Lv.3

Lv.4

Lv.5

Lv.6

Lv.7

Lv.8

Lv.9

Lv.10

[ Increases spell damage by % ]

2,5%

5%

7,5%

10%

12,5%

15%

17,5%

20%

22,5%

25%

[ Healing magic recovers % more ]

10%

20%

30%

40%

50%

60%

70%

80%

90%

100%

[ Increases buffs and decreases debuffs of your spells by % ]

5%

10%

15%

20%

25%

30%

35%

40%

45%

50%
Level 150 Talents
[
]
Talents
Grade

Lv.1

Lv.2

Lv.3

Lv.4

Lv.5

Lv.6

Lv.7

Lv.8

Lv.9

Lv.10

[ Increases Intelligence by ]

200

400

600

800

1,000

1,200

1,400

1,600

1,800

2,000

[ Decreases hostile magic effects
Increases beneficial magic effects ]

5%
10%

10%
20%

15%
30%

20%
40%

25%
50%

30%
60%

35%
70%

40%
80%

45%
90%

50%
100%

[ The chance of passive magic triggering when attack or being attacked is increased by % and its effects are increased by % ]

10%
10%

20%
20%

30%
30%

40%
40%

50%
50%

60%
60%

70%
70%

80%
80%

90%
90%

100%
100%
Level 160 Talents
[
]
Talents
Grade

Lv.1

Lv.2

Lv.3

Lv.4

Lv.5

Lv.6

Lv.7

Lv.8

Lv.9

Lv.10

[ Gain % chance to increase the spell's damage, restoration and stats effect by 20% ]

5%

10%

15%

20%

25%

30%

35%

40%

45%

50%

[ % of incoming damage will be taken from MP instead of HP ]

5%

10%

15%

20%

25%

30%

35%

40%

45%

50%

[ Regular attacks restore % of the damage dealt to your MP ]

5%

10%

15%

20%

25%

30%

35%

40%

45%

50%
Level 170 Talents
[
]
| Grade | Lv.1 | Lv.2 | Lv.3 | Lv.4 | Lv.5 | Lv.6 | Lv.7 | Lv.8 | Lv.9 | Lv.10 |
| --- | --- | --- | --- | --- | --- | --- | --- | --- | --- | --- |
| [ Increases the chance of Magic Trigger by % when attacking or being attacked. ] | 10 | 20 | 30 | 40 | 50 | 60 | 70 | 80 | 90 | 100 |
| | Lv.1 | Lv.2 | Lv.3 | Lv.4 | Lv.5 | Lv.6 | Lv.7 | Lv.8 | Lv.9 | Lv.10 |
| | 2 | 4 | 6 | 8 | 10 | 12 | 14 | 16 | 18 | 20 |
Level 180 Talents
[
]
| Grade | Lv.1 | Lv.2 | Lv.3 | Lv.4 | Lv.5 | Lv.6 | Lv.7 | Lv.8 | Lv.9 | Lv.10 |
| --- | --- | --- | --- | --- | --- | --- | --- | --- | --- | --- |
| [ Increases Attack Power by % and Health of Mercenaries by % . ] | 1 | 2 | 3 | 4 | 5 | 6 | 7 | 8 | 9 | 10 |
| | 2 | 3 | 5 | 7 | 8 | 9} | 10 | 11 | 13 | 15 |
| | 10 | 20 | 30 | 40 | 50 | 60 | 70 | 80 | 90 | 100 |