The Astrologer (Quilla) is a grade S Staff Mercenary.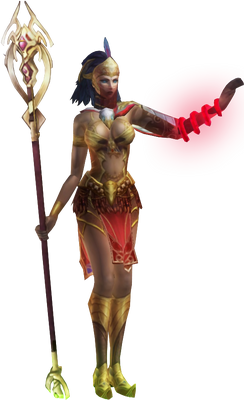 The Astrologer uses mystic knowledge of the stars to alter the fate of those around her.
You can have up to 1 of this mercenary.
Characteristics
Edit
Attributes
Edit
Basic Attack
Edit
Recruitment
Edit
The Astrologer can counter double Holy Guard (dual Monk) style formations due to her Celestial Venom ability.
Upgrades
Edit
Star Soul Crystal and Star Soul Jewel.
This Mercenary can use these Magic Skills:
Damages enemies over time (DoT). If the magic is Dispelled by Holy Guard, Ocean Blessing or Empress' Blessing, triggers Celestial Rage, which greatly reduces the targets' Action Power.
The stars avenge you by damaging the enemies who attack you.
Unleashes massive damage on enemies.