ART GALLERY GUIDE
[
]
Event
September 2 - 25, 2019
ART GALLERY DUNGEON GUIDE
Art Gallery, a new dungeon to visit and explore in the world of ATLANTICA. Located near the forest of spirits, this new dungeon will embark on an old-english style environment wherein its dark, classy and filled with strange monsters which are the Intruder acong. Don't be fooled by their looks, they are deadly and can match your character up and you can acquire more experience, great deal for grinding.
Aside on the new dungeon quest, possibly this will require a special access like the other dungeons for the Art Gallery but it requires a special Art Gallery Pass in order to enter this area and although its small, you will feel a glimpse of what an old-english style looks like. Also you can complete certain quest that only this area provides and great items and loots will be acquired upon grinding to the Art Gallery.
Mechanics:
[
]
1. We will provide free ticket only on the first hour when you login to the game everyday during the event's duration.
2. Talk to the ART GALLERY WORKER outside the dungeon to complete task to acquire ART GALLERY MEDALS.
3. Once you gather enough medals you can talk to the ART GALLERY ACONG to redeem new items and mounts.
4. Duration of the dungeon ticket is 30 minutes.
Art Gallery Dungeon is in Northeast Asia.
You can access using " Art Gallery Pass " that you can buy from Item Mall.
Art Gallery Pass duration 30min.
Acong Rewards: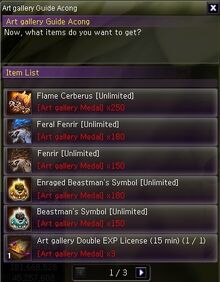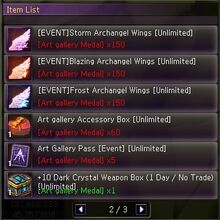 New Mount to obtain: